This fluffy sourdough milk bread is made using the tangzhong method to create the softest white bread loaf. A long, slow rise creates a rich, buttery flavor, and a no-knead method is perfect for making this bread completely by hand!
Sourdough Japanese milk bread takes the incredible fluffiness of milk bread and combines it with the distinctive flavor of sourdough – and the result is pure magic. Normally when I tell people I bake a lot of sourdough bread, they think of rustic artisan loaves with a crunchy crust and chewy center. And don't get me wrong, I LOVE a good artisan loaf. 
But sourdough is actually super versatile and can be used to make a soft white bread as well – as there's nothing softer and more melt-in-your-mouth than this Japanese milk bread. I've spent months perfecting my recipe and I can't wait to share this simple no-knead technique with you!
If you want to try milk bread but don't want to mess with sourdough, then try out my Japanese milk bread by hand recipe, which uses commercial yeast. But if you're a sourdough lover then stick around – we're going to make the fluffiest loaf of sourdough you've ever seen.
What makes this the best sourdough milk bread recipe
A couple of techniques help make this recipe shine for the absolute floofiest loaf. 
First, this recipe is 100% no-knead. We let the naturally long fermentation process help build the gluten so that the process is largely hands off. For anyone who's every struggled with sticky milk bread dough, you can really appreciate a good no-knead recipe!
Second, we use the tangzhong method to create that cotton candy-like fluffy texture. You cook flour, milk, and water together to create a roux. This gelatinizes the starches which contributes to that incomparable texture. This process along takes a few minutes at the start of the recipe ,but has major payoffs down the road!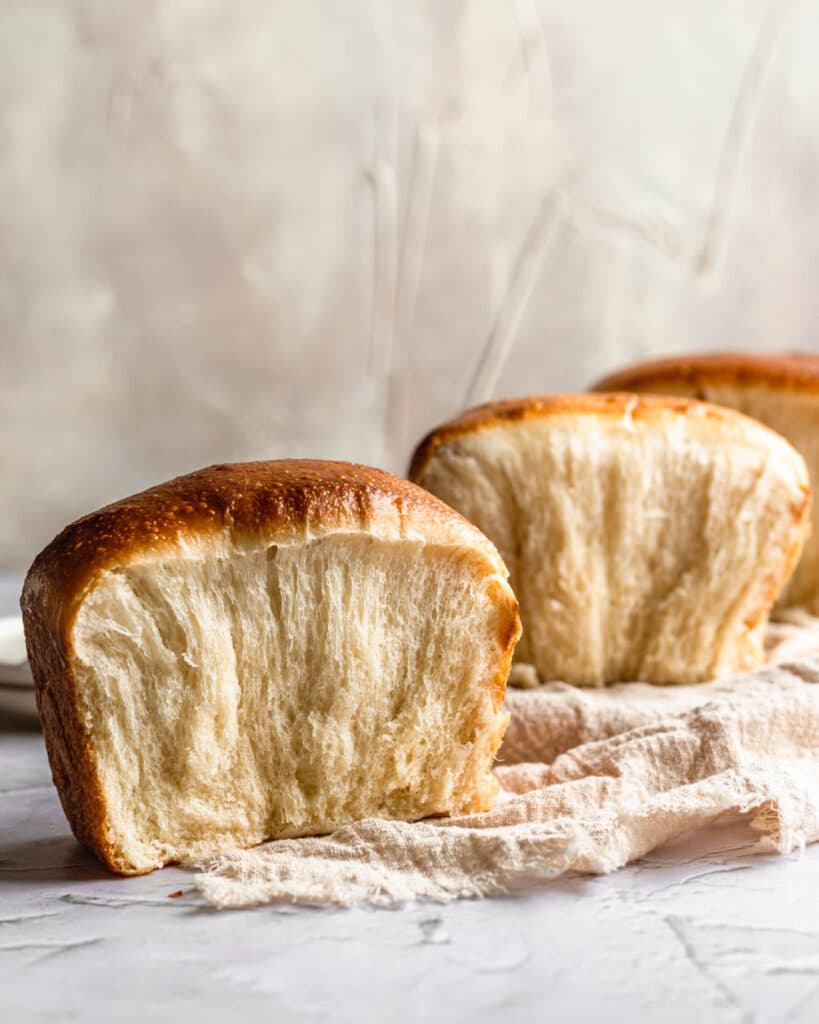 Tips for perfect sourdough milk bread
Like any other sourdough recipe, there's a certain amount of variability in this recipe depending on the strength of your starter and temperature of your kitchen. If you're a beginner sourdough baker, I recommend trying a classic loaf first before tackling this milk bread. It'll help you get a feel for your starter and different sourdough techniques. 
Here are some general tips to keep in mind as you bake this loaf:
Make sure you have a mature starter that doubles in size after being fed within 4 – 8 hours. The rise time on this loaf is quite long, so a strong starter is crucial to make sure your loaf is not underproved. If you're starter isn't doubling quickly enough, keep discarding and feeding until it builds strength.
Be patient – it's going to take time to rise! Milk bread is an enriched loaf, meaning there's butter, milk, and eggs added to the dough. These fats slow down the rise, and natural yeast is already a slower mover than commercial yeast. Rise time will vary depending on how warm and humid your kitchen is – I've had this recipe take me anywhere from 5 – 10 hours on the second proof. 
Use a food scale to measure ingredients. Precision helps for the best sourdough results, so I only provide this recipes in grams. 
Make sure your butter is at room temperature. Softened butter is important for incorporating smoothly into the dough, otherwise you may have small lumps.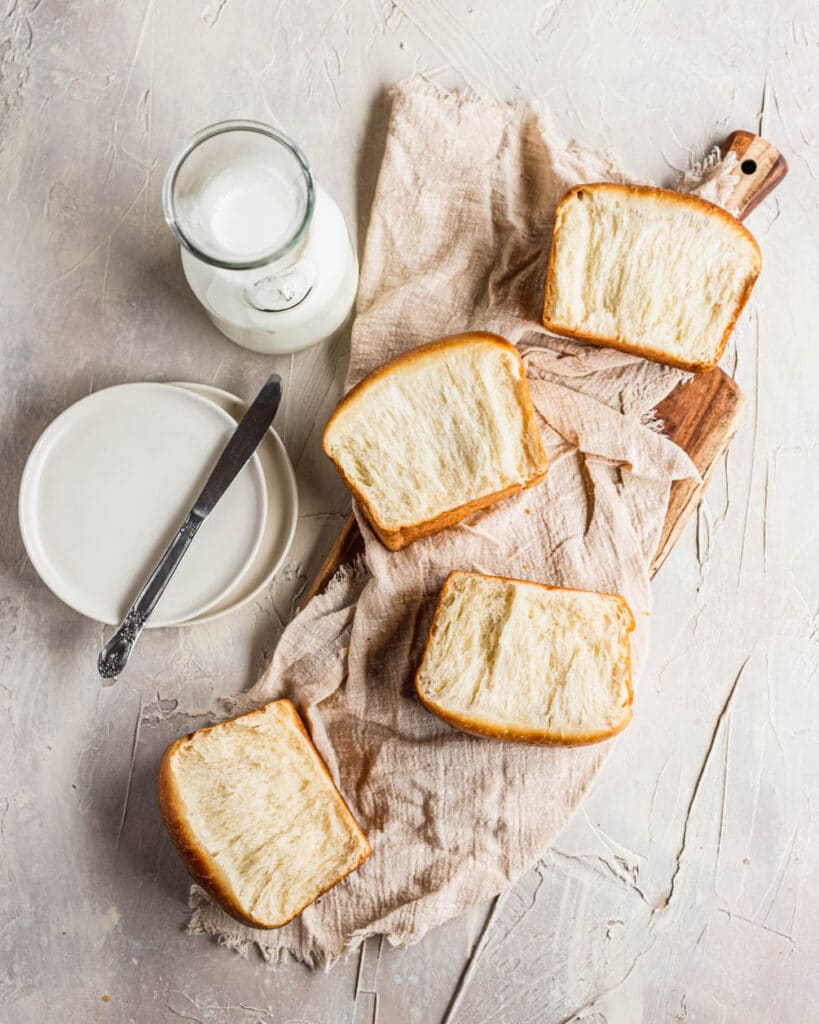 My sourdough baking timeline
Because rise. times can vary, I'm providing my general timeline to help give a sense of how long this loaf will take. Of course, it's important to keep an eye on the dough to make sure it's not over or underproofed. Overall, this is a 2 day process but you can place the loaf back in the fridge after the second proof for up to 24 hours. 
Day 1
10:00am – Mix sourdough starter with milk and bread flour
4:00pm – Make the tangzhong. Mix together all ingredients to create the dough.
4:30pm – First set of coil folds to develop gluten
5:00pm – Second set of coil folds 
6:00pm – Third set of coil folds 
6:45pm – Fourth set of coil folds
7:00pm – Cover and place in fridge for overnight cold retard. This helps make the dough easier to handle when shaping the next day.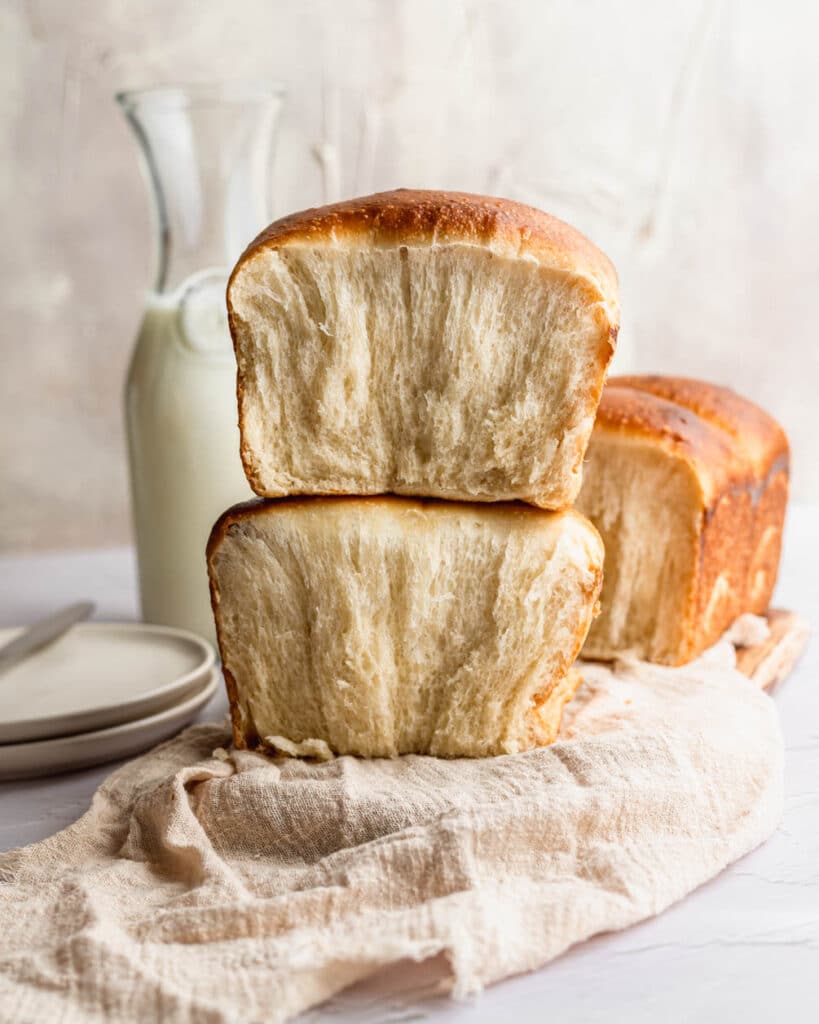 Day 2
12:00pm – Divide the dough and shape. Place in a loaf tin
— Long rise time. I've had it rise in 5 hours in a very warm and humid environment. I've also had it take 10 hours during the winter. —
9:30pm – Bake for 10 minutes at 400F then reduce 350F and bake for 20 minutes. The hotter initial temperature helps create a better oven spring. 
If you want a fresh loaf of bread in the morning, you can also cover and place back in the fridge to bake the next day. The cold temperatures will stall the rise.
While this recipe can take a while, it's definitely a mix it and leave it kind of recipe. And I love the super rich sourdough taste you get from the long ferment. So with all that being said, is your starter fired up and ready to go? Let's bake some sourdough milk bread!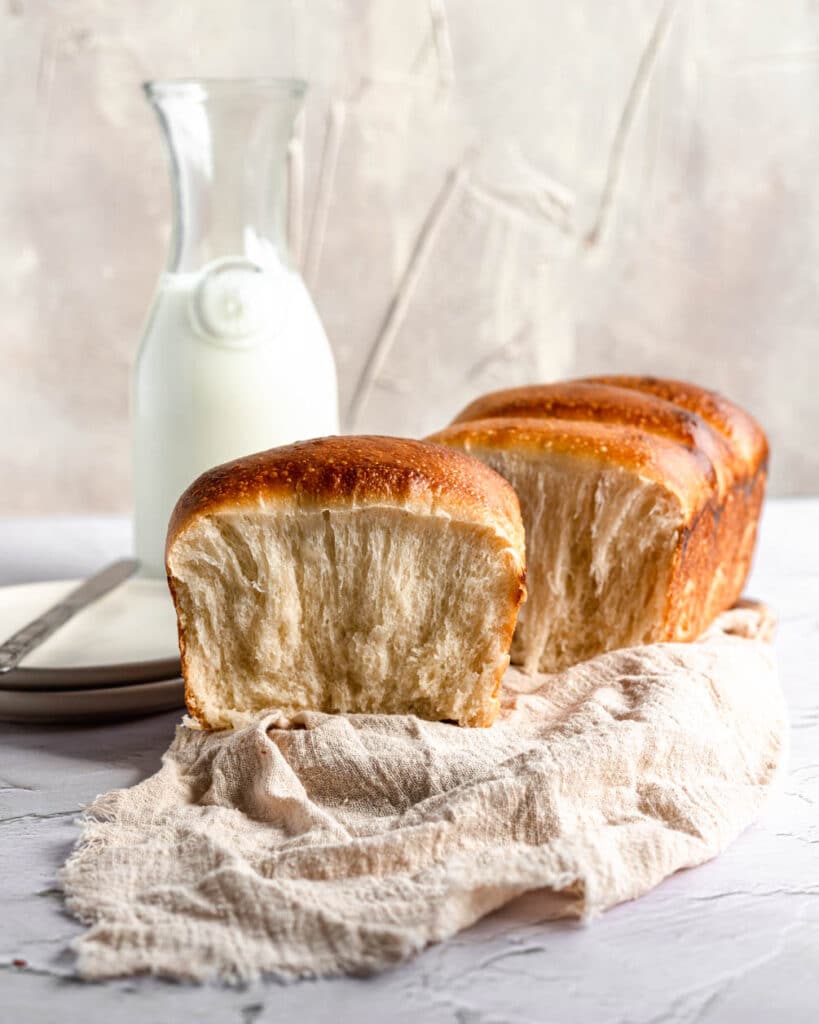 Other sourdough recipes I love:
If you make this recipe, please let me know! It would bring me so much joy to see your sourdough milk breads. You can comment below or tag me on Instagram @halicopteraway.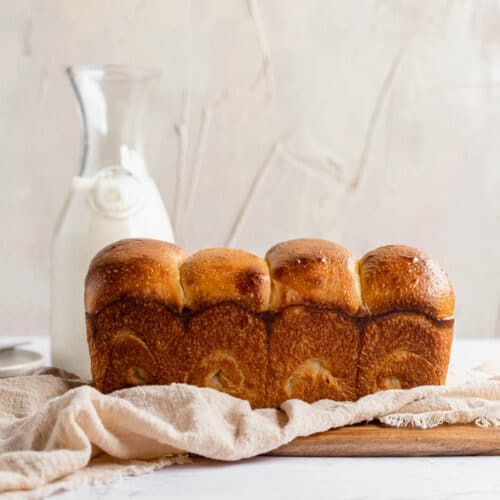 Sourdough Japanese milk bread
This fluffy sourdough milk bread is made using the tangzhong method to create the softest white bread loaf. A long, slow rise creates a rich, buttery flavor, and a no-knead method is perfect for making this bread completely by hand!
Equipment
Mixing bowl

Skillet

Rolling Pin

9 x 5 inch loaf tin
Ingredients
Levain
30

g

fed and active sourdough starter, 100% hydration

60

g

milk, warm

60

g

bread flour
Tangzhong
23

g

bread flour

60

g

water

60

g

milk
Dough
275

g

bread flour

50

g

granulated sugar

4

g

salt

60

g

milk, warm

1

egg

60

g

butter, room temperature
Instructions
Make the levain
Mix together the sourdough starter, warm milk, and bread flour to create the levain. Cover and let rise until doubled in size. This takes about 4 – 8 hours.
Make the tangzhong
In small skillet or pot, whisk together flour, milk, and water until smooth. Bring to simmer over medium-low heat, whisking frequently, until mixture has thickened but is still pourable. It should take 5 – 10 minutes. Your whisk should leave a mark when dragged along the bottom of the pan.

Pour into a bowl and cover surface with plastic wrap to prevent a film from forming, and allow to cool to room temperature.
Make the dough
In a mixing bowl, add the flour, sugar, salt, milk, egg, levain, and tangzhong. Mix until a shaggy dough forms. Use your hands to gently mix in the softened butter.

Cover the bowl with plastic wrap and let sit for 30 – 45 minutes.

Gently slide your hand under the middle of the dough and fold it over itself twice using the coil fold method. This helps gently develop the gluten.

Over the next 2 to 3 hours, allow the dough to rise, performing a coil fold every 30 – 45 minutes. 

Cover the dough with plastic wrap and place in the fridge for at least 8 hours and up to 24 hours.

Grease a baking tin. Remove the dough from the fridge and turn out onto a lightly floured surface. Divide into 4 equal pieces. For perfectly even pieces, you can weigh them – they should be about 200g each. Gently shape each piece into a ball.

Use a lightly floured rolling pin to roll one of the balls into a rectangle about 4 inches wide and 8 inches long. If the dough is shrinking, let it sit for 10 minutes to help the gluten relax. With the short end of the rectangle facing you, roll the dough away from you to form a 4 inch wide coil. Place into the greased baking tin. Repeat with the remaining 3 balls of dough and place them side by side in the tin.

Cover the tin and let proof until the dome of the dough rises above the edge of the pan. This takes 6 – 10 hours depending on how warm your kitchen is. I like to place my dough in the oven with the oven light on and door cracked to help create a warmer environment.

When you're ready to bake, preheat the oven to 400°F. Whisk together the egg and milk to create the egg wash and brush over the top of the loaf. Pop any obvious air bubbles.

Place in the middle rack and bake for 10 minutes. Then, reduce the temperature to 350°F and bake for another 20 minutes until the loaf is evenly golden brown on top and makes a hollow sound when tapped.

Remove from the oven and let cool in the pan for 15 minutes. Remove from the pan and let cool for another 30 minutes – 1 hour on a wire cooling rack.
Notes
Make sure that the milk is warm, but not hot. If it's too hot, it will kill the yeast. I usually microwave for ~10 seconds until warm to the touch.
If you want to bake the bread at a different time, you can place the loaf in the fridge after the second proof until ready to bake.