These whole wheat scones are lightly sweetened with honey and dried cranberries. Walnuts add an additional crunch for a wholesome and healthier breakfast recipe!
Cranberry and walnuts are the perfect tart, sweet, and crunchy combo that pairs perfectly with buttery scones. These scones also use honey instead of white sugar so they're refined sugar free, and they add whole wheat for extra fiber and flavor!
Tips for light and fluffy whole wheat scones
You want your scones to come out light and fluffy because no one wants to eat a hockey puck for breakfast. The trick really lies in the temperature of your ingredients and your technique. 
Use very cold butter – my number one rule for scones is to use very cold butter. Frozen butter works the best, but if you don't plan ahead (like me!), you can throw your butter in the freezer for 20 minutes before using.
Grate your butter – you want the butter chunks to be evenly distributed through the scone dough. When the butter melts in the oven, it creates little air pockets that help your scones rise and makes them extra fluffy. 
Make sure all your ingredients are cold – because you want the butter to melt in the oven and not into the dough, keep all of your ingredients like milk and eggs nice and cold. 
Don't over mix the dough – the best kinds of scones are light and crumbly. Over-mixing the dough causes gluten to develop, which can make your scones tough and dense. Mix until the ingredients just come together, and no more than that!
Chill the scones before baking – Again, you want to keep your scones cold before going into the oven. I recommend chilling for 15 minutes before baking, which also prevents spreading in the oven.
Use a mix of whole wheat and all purpose flour. Whole wheat flour is more dense than all purpose flour, and it absorbs more moisture. These scones use a mix of both flours so they stay nice and fluffy.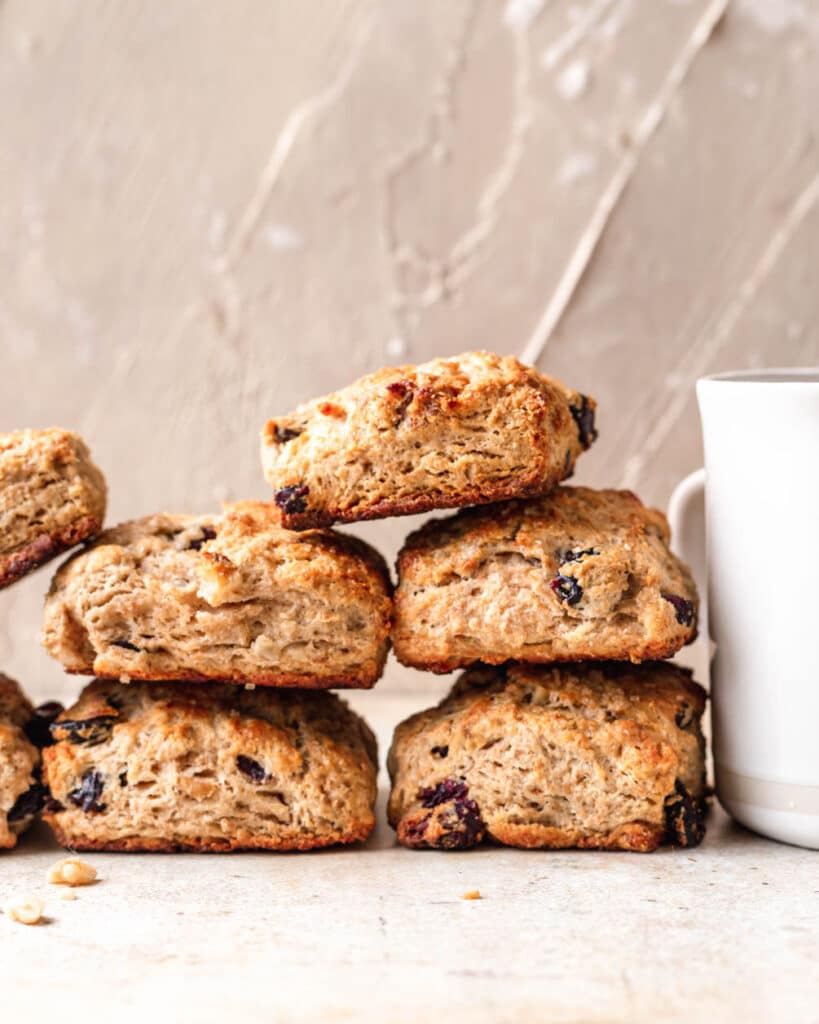 Why use honey instead of sugar?
Flavor-wise, there's not actually a huge difference between honey and sugar for these scones because we really use just a little bit of sweetener overall. 
However, honey does have a lower glycemic index than sugar, which means it raises your blood sugar more slowly. I know some of my readers want to avoid refined sugar, and these scones can provide that option. If you don't have honey, you can easily replace it with 2 tablespoons of granulated sugar.
These scones are also not very sweet. If you like your scones on the sweeter side, feel free to add an extra tablespoon of honey.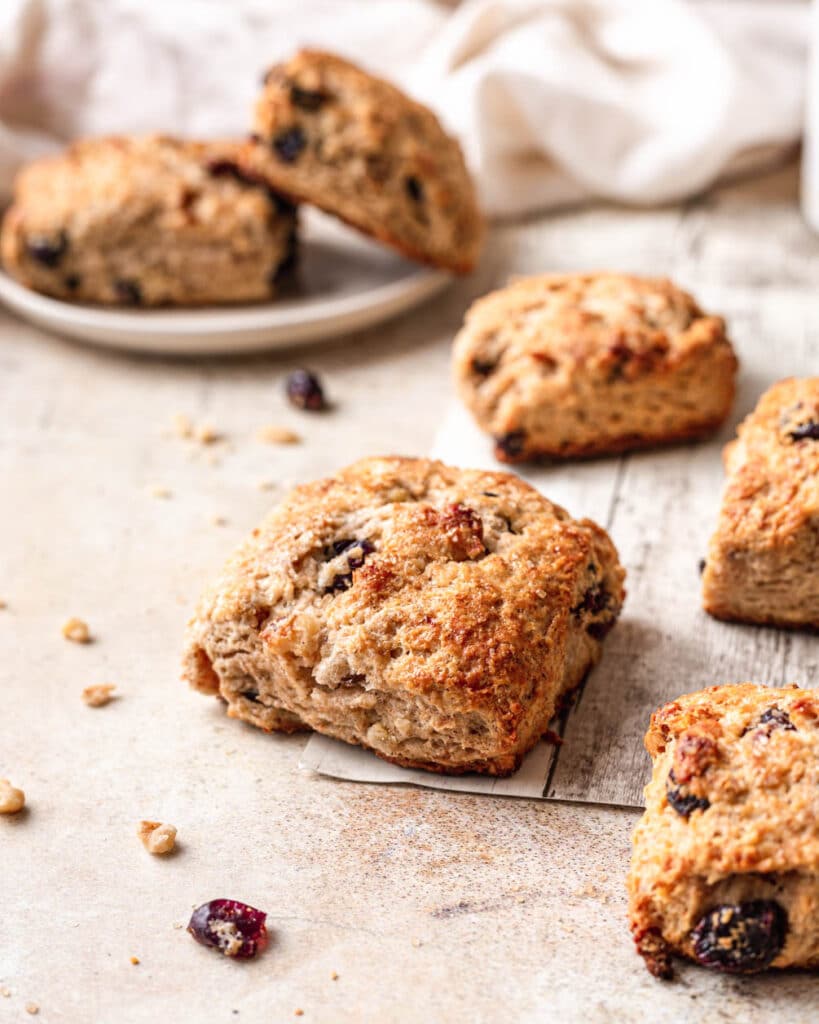 I love eating these scones warm with a cup of tea. They're super cozy and absolutely delicious! 
Other scones and muffin recipes to try
If you make this recipe, please let me know! I always love to see what my readers are baking. You can comment below or tag me on Instagram @halicopteraway.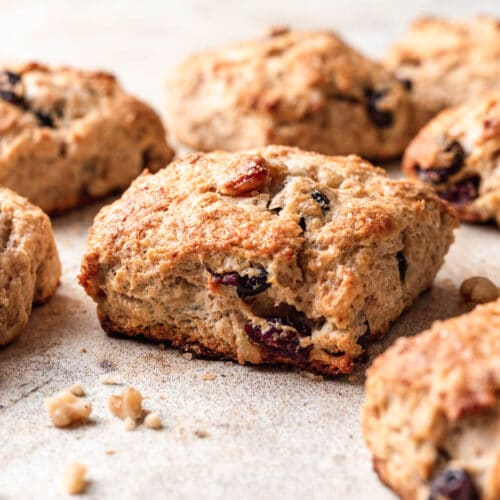 Whole wheat cranberry walnut scones
These whole wheat scones are lightly sweetened with honey and dried cranberries. Walnuts add an additional crunch for a wholesome and healthier breakfast recipe!
Equipment
Mixing bowl

Baking sheet

Parchment paper
Ingredients
1

cup (125g)

whole wheat flour

1

cup (125g)

all purpose flour

1/2

tsp

salt

2 1/2

tsp

baking powder

1/2

cup (113g)

butter1

1/2

cup (120g)

buttermilk2

1

egg

1

tsp

vanilla extract

2

tbsp

honey3

1/2

cup

dried cranberries

1/2

cup

walnuts, roughly chopped
For topping
2

tbsp

milk

coarse sugar, for sprinkling (optional)
Instructions
In a medium mixing bowl, whisk together the whole wheat flour, all purpose flour, salt, and baking powder until combined.

Grate the very cold butter into the bowl. Use the tips of your finger to gently rub the butter into the dry ingredients until you have pea-sized chunks. Place the dry ingredients into the fridge to keep cold while you prep the wet ingredients.

In a small bowl, whisk together the buttermilk, egg, vanilla extract, and honey until the honey has completely dissolved.

Remove the dry ingredients from the fridge and fold in the dried cranberries and chopped walnuts until evenly distributed. Pour in the wet ingredients and use a spatula to fold until the dough comes together and all the flour is incorporated. The dough should be fairly sticky and moist.

Line a baking tray with parchment paper. Transfer the dough onto a floured countertop. Sprinkle the top with flour and use your hands to gently pat into a 6 inch by 6 inch square. Use a knife or bench scraper to divide into 9 equal squares, each about 2 inches wide.

Place the slices on the prepared baking tray about 1 – 2 inches apart. Place the tray in the fridge to chill for 15 minutes.

While the scones are chilling, preheat the oven to 400°F

Once the scones have chilled, brush the tops with milk and sprinkle with coarse sugar. Place in the middle rack and bake for 17 – 18 minutes until the edges just begin to brown.

Remove from the oven and enjoy! Store leftover scones in airtight containers at room temperature.
Notes
I recommend freezing your butter for at least 20 minutes before using to ensure that it is very cold
If you don't have buttermilk, you can replace with the following: put 1/2 tbsp of lemon juice or vinegar in a measuring cup. Pour in milk until it reaches the 1/2 cup line. Stir.
If you would like these a little sweeter, you can add another tablespoon of honey