Spicy gochujang scones filled with chopped scallions and cheddar cheese for the perfect savory breakfast pastry. These easy scones are a delicious Asian-inspired treat!
A recent trip to H-Mart blessed me with the opportunity to pick up some of my favorite Asian ingredients – including gochujang. And what better way to celebrate than with an Asian fusion gochujang scone?
These scones bring a flavorful twist to a traditional recipe. We'll add fresh scallions and cheddar cheese as the perfect savory add-ins to complement the spice from the gochujang!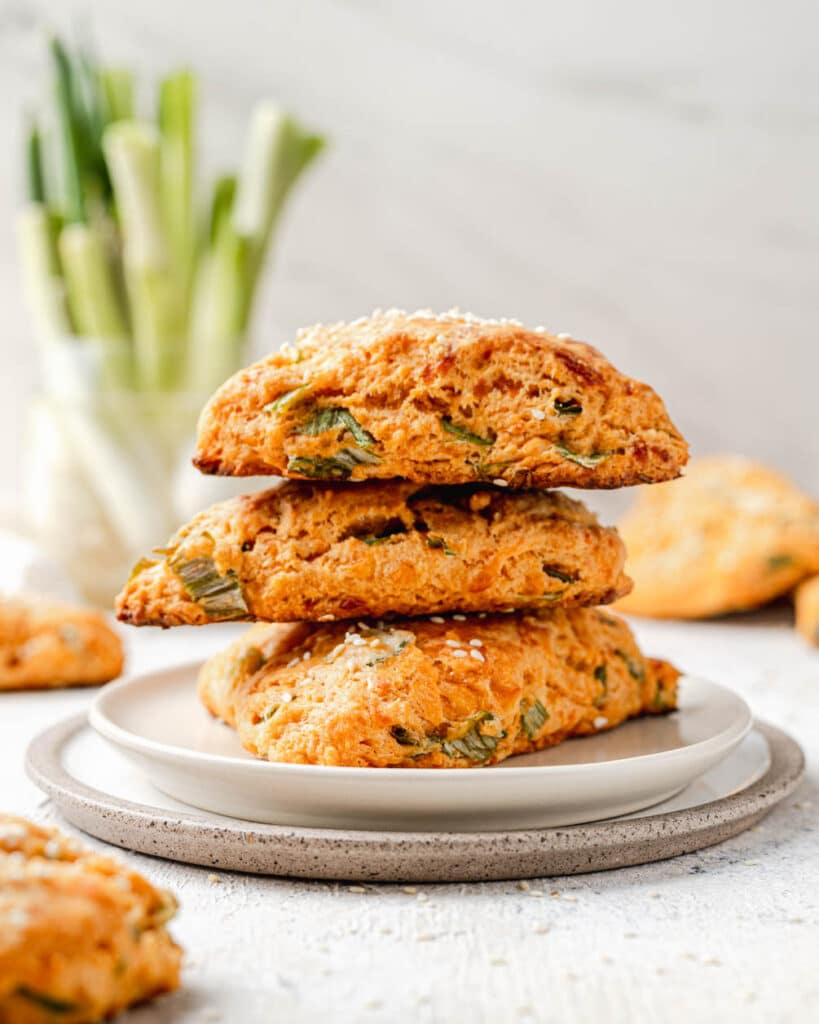 What is gochujang?
Gochujang is a Korean red chili spice that is sweet and spicy. This fermented paste is super flavorful and packs a huge flavor punch. 
I love using it in soups, stir fries, and now even baking!
Depending on your spice tolerance, you might find gochujang to be quite spicy. If you're sensitive to spicy foods, I recommend starting with 1 tbsp of gochujang in the recipe.
Where can I buy gochujang?
You can often find gochujang at Asian grocery stores, such as H-Mart. It's becoming increasingly popular in mainstream grocery stores as well, such as Whole Foods and Target.
I use Haechandle brand Gochujang, which you can conveniently purchase on Amazon.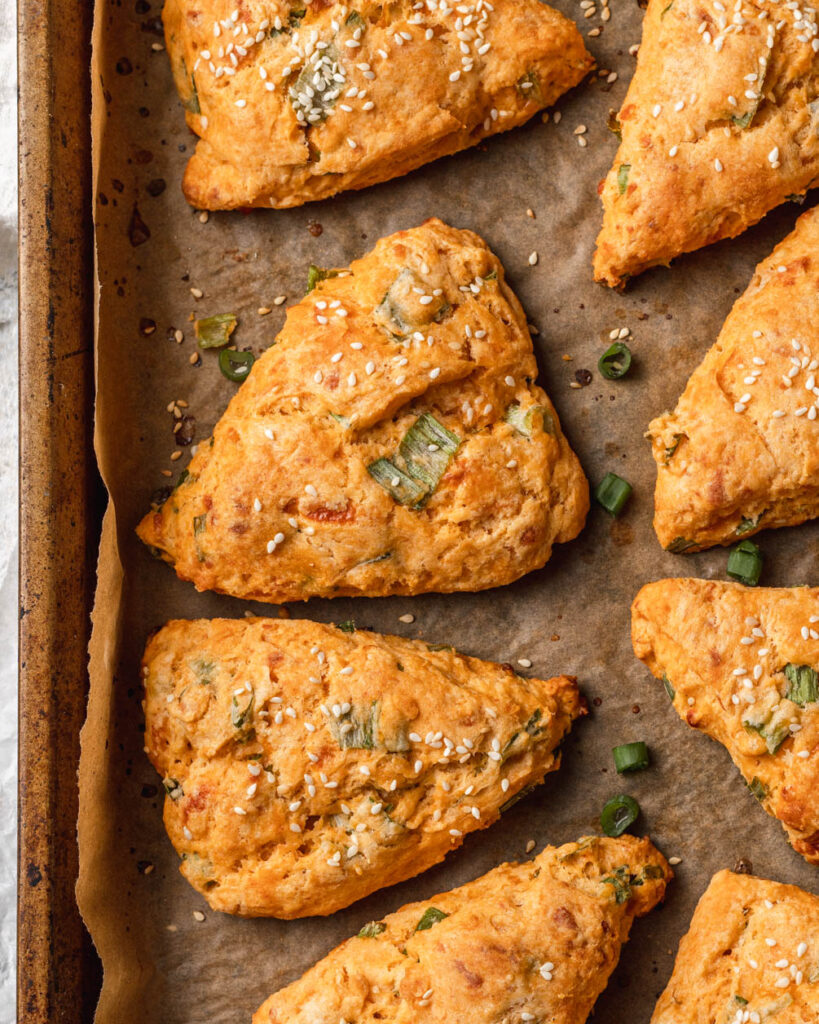 How to make super flaky scones
The key to flaky scones is to have little pebbles of butter in your dough that melt in the oven and create beautiful, flaky layers. There are three tricks to creating this effect.
Keep your ingredients nice and cold – I use milk and eggs straight from the fridge. While I'm prepping the wet ingredients, I even place the dry ingredients in the fridge to ensure that they don't get too warm.
Freeze and then grate your butter – Grating frozen butter helps create small, cold pieces of butter throughout your dough. I always throw my stick of butter in the freezer 20 minutes before I bake.
Use your fingertips to rub the butter into the flour – Rubbing the butter into the flour helps evenly distribute it. Your fingertips have less heat than the palm of your hand, so using your fingertips helps keep the butter cold.
How to prevent scones from spreading in the oven
Scones are a fragile, sticky dough, and if they are not kept cold enough, they will spread in the heat of the oven. After shaping the scones, I recommend chilling for 15 minutes before popping them in the oven to bake. This will help them keep their shape.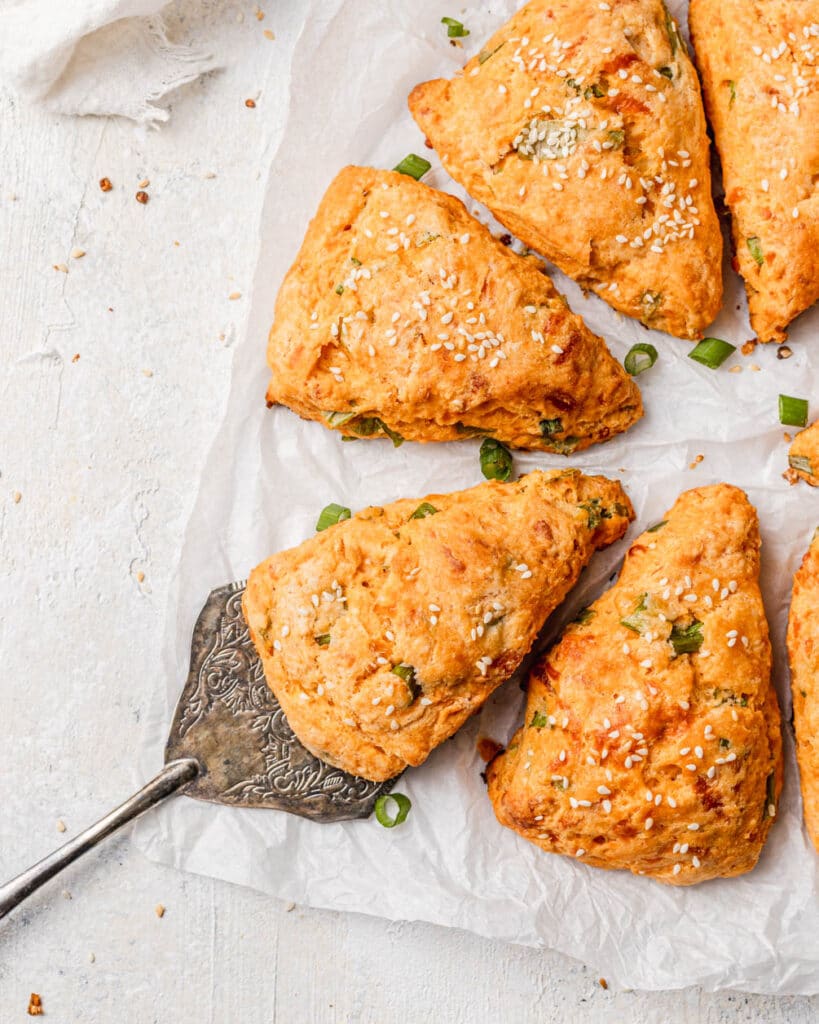 Other Asian-inspired recipes to try:
I love how flavorful this recipe is and I hope you will too!
If you make this recipe, please let me know! I always love to see what my readers are baking. You can comment below or tag me on Instagram @halicopteraway.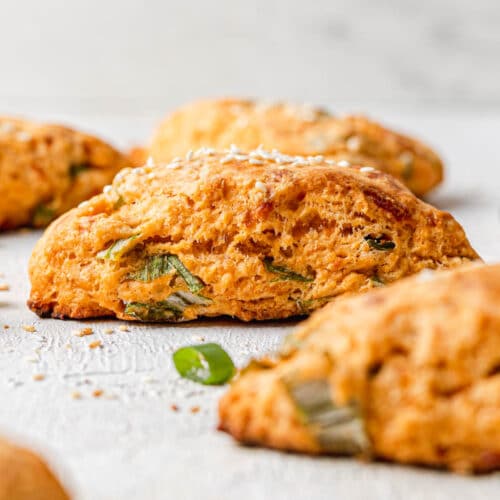 Gochujang scallion cheese scones
Spicy gochujang scones filled with chopped scallions and cheddar cheese for the perfect savory breakfast pastry. These easy scones are a perfect Asian-inspired treat!
Equipment
Mixing bowl

Baking sheet

Parchment paper
Ingredients
Dough
2

cups (250g)

all purpose flour

2

tbsp

granulated sugar

1/2

tsp

salt

2 1/2

tsp

baking powder

1/2

cup (113g)

butter, very cold1

1/2

cup (120g)

buttermilk2 (see notes for substitution)

1

egg

1

tbsp + 1 tsp

gochujang3

2/3

cup

shredded cheddar cheese

1

cup

chopped scallions (about 1 bunch)
Topping
2

tbsp

milk

sesame seeds, for sprinkling
Instructions
In a medium mixing bowl, whisk together the flour, sugar, salt, and baking powder until combined.

Grate the very cold butter into the bowl. Use the tips of your finger to gently rub the butter into the dry ingredients until you have pea-sized chunks. Place the dry ingredients into the fridge to keep cold while you prep the wet ingredients.

In a small bowl, whisk together the buttermilk, egg, and gochujang until the gochujang has completely dissolved.

Remove the dry ingredients from the fridge and fold in the cheddar cheese and chopped scallions until evenly distributed. Pour in the wet ingredients and use a spatula to fold until the dough comes together and all the flour is incorporated. The dough should be fairly sticky and moist.

Line a baking tray with parchment paper. Transfer the dough onto a floured countertop. Sprinkle the top with flour and use your hands to gently pat into a circle that is 8 inches in diameter. Use a knife or bench scraper to divide into 8 even slices.

Place the slices on the prepared baking tray about 1 – 2 inches apart. Place the tray in the fridge to chill for 15 minutes.

While the scones are chilling, preheat the oven to 400°F

Once the scones have chilled, brush the tops with milk and sprinkle with sesame seeds. Place in the middle rack and bake for 18 – 22 minutes until the edges just begin to brown.

Remove from the oven and enjoy! Store leftover scones in airtight containers at room temperature.
Notes
I recommend freezing your butter for at least 20 minutes before using to ensure that it is very cold
If you don't have buttermilk, you can replace with the following: put 1/2 tbsp of lemon juice or vinegar in a measuring cup. Pour in milk until it reaches the 1/2 cup line. Stir.
If you are sensitive to spice, I recommend using only 1 tbsp of gochujang