Create a delicious and stunning charcuterie board center piece with this tear and share brie-stuffed bread wreath! The dough is made from soft and fluffy Japanese milk bread, and filled with melted brie.
During the holiday season, I'm always looking for recipes that are easy to share and perfect for feeding a crowd. This brie-stuffed milk bread wreath definitely rises to the occasion! It's made of small individual rolls that are stuffed with cheese and arranged to create a stunning wreath. 
The bread is light and fluffy, and the cheese melts in the oven and creates little pockets that are perfect for stuffing with jam or charcuterie!
How to make a fluffy bread wreath dough
The base of this bread wreath is my favorite Japanese milk bread recipe. I use the tangzhong method to create a super light and airy dough. The tangzhong method cooks the flour with water and milk to create a roux that we then add to the dough. It's a little more work, but I promise it's worth the effort! If you're making bread for the first time, I recommend you read my guide to baking enriched bread for step-by-step help and troubleshooting.
The dough also uses plenty of milk and butter to give a very rich flavor that goes well with the brie. The added fat and liquid can make this dough stickier to work with. However to create a beautiful, fluffy dough it's important to knead thoroughly until your dough passes the window pane test.
And yes, you can definitely knead by hand! Follow the steps in my Japanese milk bread recipe for the best method if you don't have a stand mixer. Otherwise, you are welcome to use a stand mixer.
How to shape a tear and share bread wreath
The bread wreath is made of 25 miniature rolls that can be pulled off the larger wreath. First, you want to roll out the dough into a 10 inch by 10 inch square. Then, using a knife or pizza slicer, divide the square into 25, 2 inch by 2 inch squares. Fill each square with cheese and pinch the edges together to create a mini roll. 
To arrange the wreath, make sure you have a large enough baking sheet. It should be at least 10 inches wide, since the wreath will spread a little in the oven. Then, follow these steps:
Line the sheet with parchment paper. Draw a circle in the middle of the parchment paper, about 3 – 4 inches wide. 
Arrange 9 of the mini rolls around the circle
Arrange the remaining 16 rolls as a layer surrounding the first 9 rolls
After you arrange the wreath, leave it to proof for another 20 – 30 minutes. Then, brush with egg wash for a shiny finish and pop it into the oven to bake.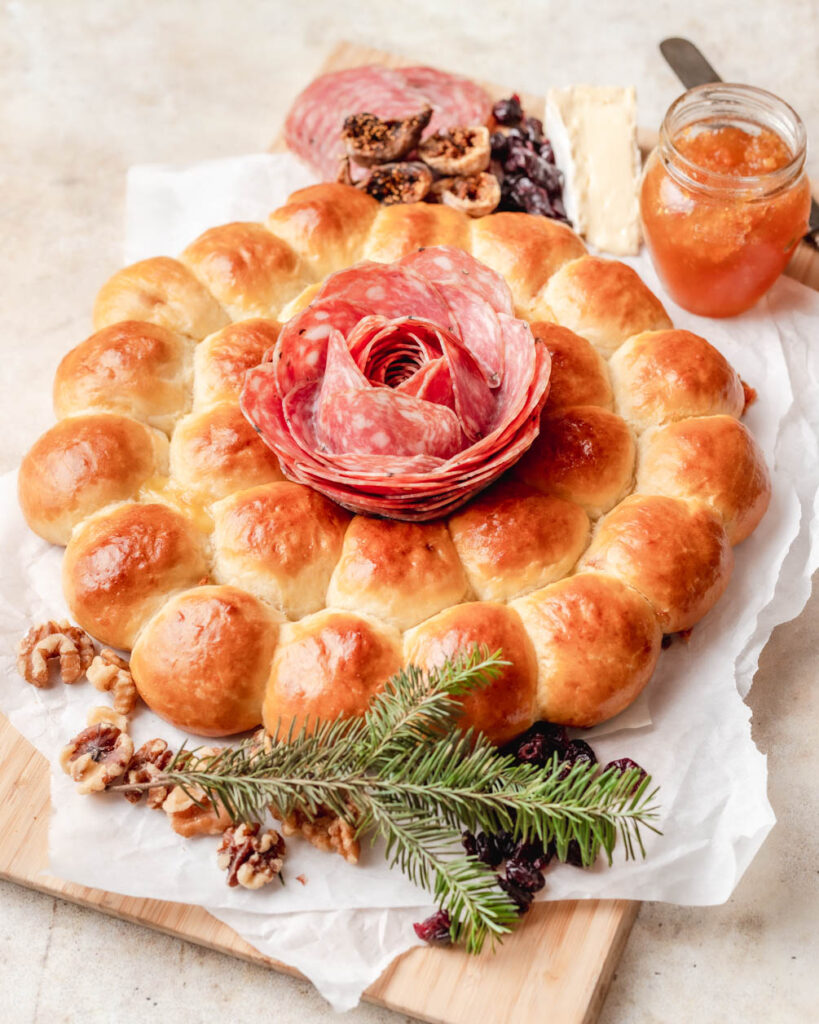 How to serve this bread wreath
I love using this bread wreath as the center piece of a charcuterie board because it's truly a showstopper. The center of the wreath is an empty circle, which makes it perfect for holding a pot of jam, or small bowl of nuts. I like to put a beautiful charcuterie rose in the middle!
If you're making a savory charcuterie board, you can also brush the top of the wreath with a mix of butter, Italian herbs, and minced garlic. This will create a delicious garlic bread variation.
I recommend serving this bread wreath within a few hours after baking so the bread stays nice and soft. If it's cooled down, pop it in the oven at 350F for 5 minutes to warm it back up. It's definitely best served warm!
Other fluffy bread recipes to try:
If you make this recipe, please let me know! I always love to see what my readers are baking. You can comment below or tag me on Instagram @halicopteraway.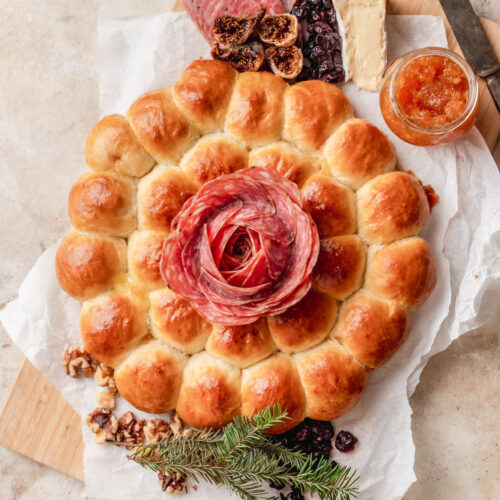 Brie-stuffed milk bread wreath
Create a delicious and stunning charcuterie board center piece with this tear and share brie-stuffed bread wreath! The dough is made from soft and fluffy Japanese milk bread, and filled with melted brie.
Equipment
18 by 13 inch baking sheet

Mixing bowl

Small skillet or pot

Rolling Pin
Ingredients
Tangzhong
3

tbsp (23g)

bread flour

1/4

cup (60g)

water

1/4

cup (60g)

milk
Dough
1/2

cup

tangzhong (see above)

1/2

cup (120g)

milk, lukewarm

1/4

cup (50g)

granulated sugar

2

tsp (7g)

instant or active dry yeast

2 1/2

cups (325g)

bread flour

1

egg

1

tsp

salt

4

tbsp (60g)

unsalted butter, room temperature and cut into pieces
Filling
3 – 4

oz (85 – 155g)

brie
Egg wash
1

egg

1

tbsp milk or water
Instructions
Make the tangzhong
In small skillet or pot, whisk together flour, milk, and water until smooth. Bring to simmer over medium-low heat, whisking frequently, until mixture has thickened but is still pourable. It should take 5 – 10 minutes. Your whisk should leave a mark when dragged along the bottom of the pan.

Pour into a bowl and cover surface with plastic wrap to prevent a film from forming, and allow to cool to room temperature.
Make the dough
In the bowl of a stand mixer, mix together the warm milk, sugar, and yeast. Let sit for 5 – 10 minutes until the yeast is foamy and active. If you do not see any activity, your yeast may be dead. Start over with fresh yeast.

Add the bread flour, egg, salt, and tangzhong to the bowl. Using a dough hook attachment, knead on medium-low speed until the dough just comes together. Add the butter in pieces while the mixer is running. Scrape down the sides of the bowl as needed. Continue kneading for 10 – 15 minutes until the dough is smooth and passes the window pane test. You can also choose to knead by hand during this step.

Cover and let rise for 1 – 1.5 hours until doubled in size.
Prep the filling
Cut your brie into 25 equal pieces. Each piece should be about 1 inch wide.
Shape & make the wreath
Cover a baking sheet with parchment paper. Trace a circle in the middle about 3 – 4 inches (8 – 10 cm) in diameter.

Once the dough is ready, turn it out onto a lightly floured countertop. Knead a few times to release the air. Use a rolling pin to roll out to a 10 inch (25 cm) by 10 inch square. Cut into 25 smaller squares, each 2 inches (5 cm) wide. You can do this by making 4 vertical cuts and 4 horizontal cuts each space 2 inches apart.

Place a piece of brie in the center of a square. Pinch the edges together to seal, and gently roll on the countertop to shape into a smooth ball. Place on the countertop seam side facing down. Repeat with the remaining squares.

Arrange 9 of the rolls around the circle that you traced in the parchment paper. Take the remaining 16 rolls, and arrange them in a second layer surrounding the first circle.

Cover lightly and let proof for 20 – 30 minutes. Preheat the oven to 350°F.

Once the wreath is done proofing, it should look puffy and when you press a finger into the dough, it should only fill halfway. Whisk together egg and milk or water, then brush the top of the wreath with egg wash.

Place in the center rack of the oven and bake for 25 – 30 minutes until golden brown and makes a hollow noise when tapped.

Remove from the oven let cool for 5 – 10 minutes. Serve warm.
Notes
It's best to use a flat baking sheet without raised edges. However, you can definitely use a smaller baking sheet with raised edges (such as a 9 inch by 13 inch pan). However, as the bread expands in the oven it will likely bump up against the edges of the pan, and the wreath won't be perfectly round.