These melon pan are made with soft and fluffy milk bread and covered with a sweet cookie crust. They're shaped like adorable bunnies to celebrate the Year of the Rabbit!
January 22, 2023 welcomes the year of the rabbit, and there's no cuter way to celebrate than with these bunny-shaped melon pan! They're as delicious as they are cute and are sure to make you and your loved ones smile.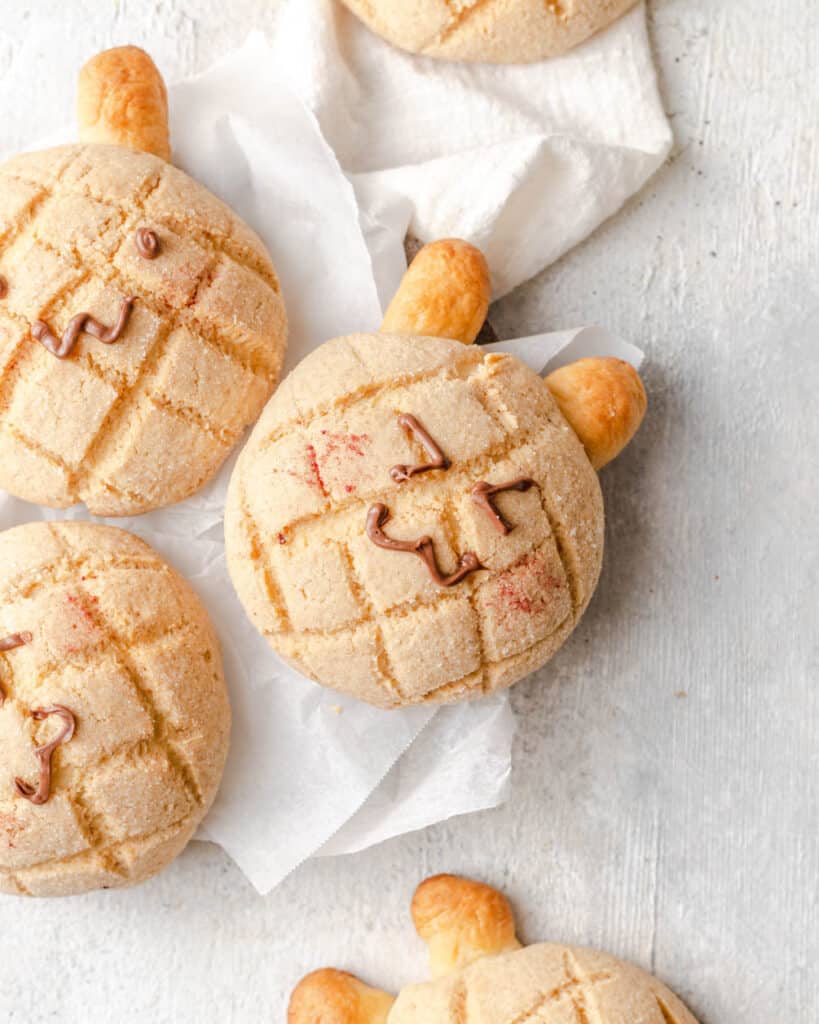 What is melon pan?
Melon pan is a sweet enriched bread from Japan that is known for its signature cross-hatched cookie crust. This cookie crust is where it gets its name, because it looks like a cantaloupe!
There are many similar breads to melon pan, such as pineapple buns from Hong Kong, soboro bread from Korea, Rotiboys from Malaysia, and conchas from Mexico. All are sweet bread featuring a yummy cookie crust.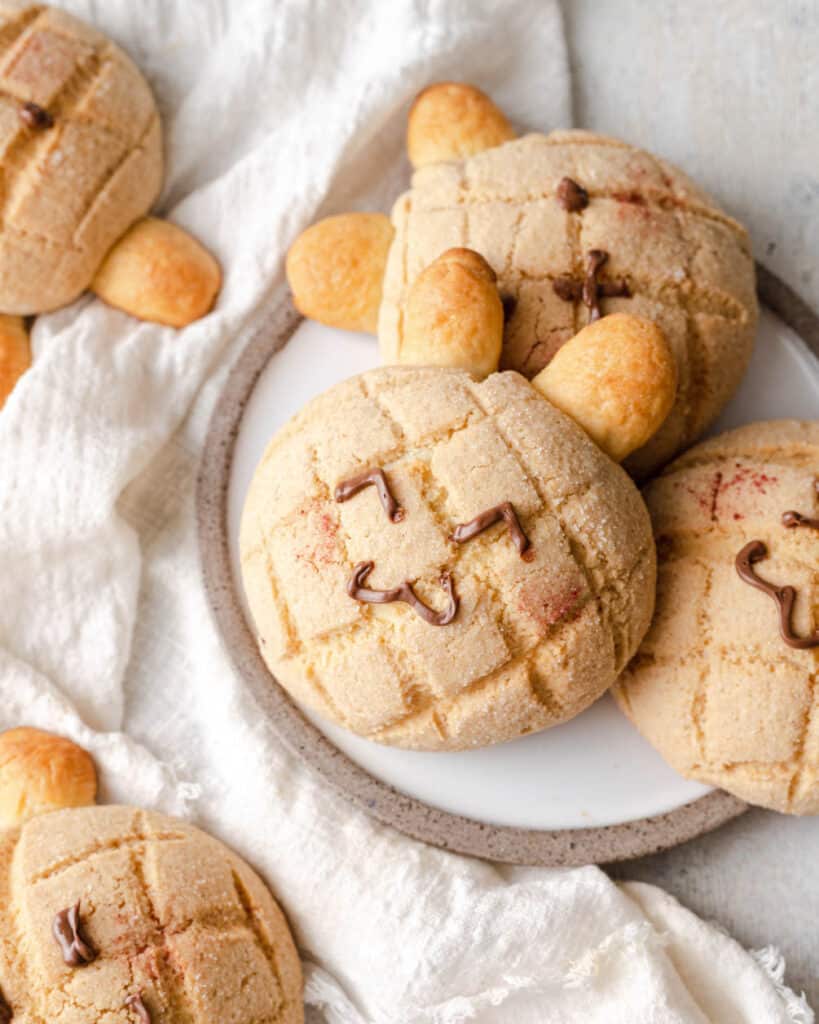 How to make melon pan
We start by making my favorite Japanese milk bread recipe. If you've never made an enriched bread before, I recommend you check out my guide to making enriched bread.
While the dough is proofing, we make the cookie crust which is a mixture of butter, sugar, egg, flour, corn starch, and baking powder. It has a similar texture to a shortbread cookie, but the egg prevents it from crumbling.
Tips for shaping melon pan
Shaping the melon pan is trickiest part of this bake! Here are tips to get super cute bunnies
Weigh both your cookie dough and your bread dough, then divide by 10 to get the weight for each individual bun. Weighing out the dough ensures that each bun is approximately the same size
Save about a quarter of each roll for the ears, to make sure that they end up long enough
Roll out the cookie dough between parchment paper to avoid sticking
Gently wrap the cookie dough around the roll, and then tuck the excess dough underneath. Roll the bun along the counter to hide all of the seams and create a neat look
Dip in sugar and score before adding on the ears
Make sure to score the cookie crust deep enough that the buns have room to grow in the oven, but not so deep that the bread dough underneath is cut
These bunnies came out so cute and delicious – I hope you'll give them a try!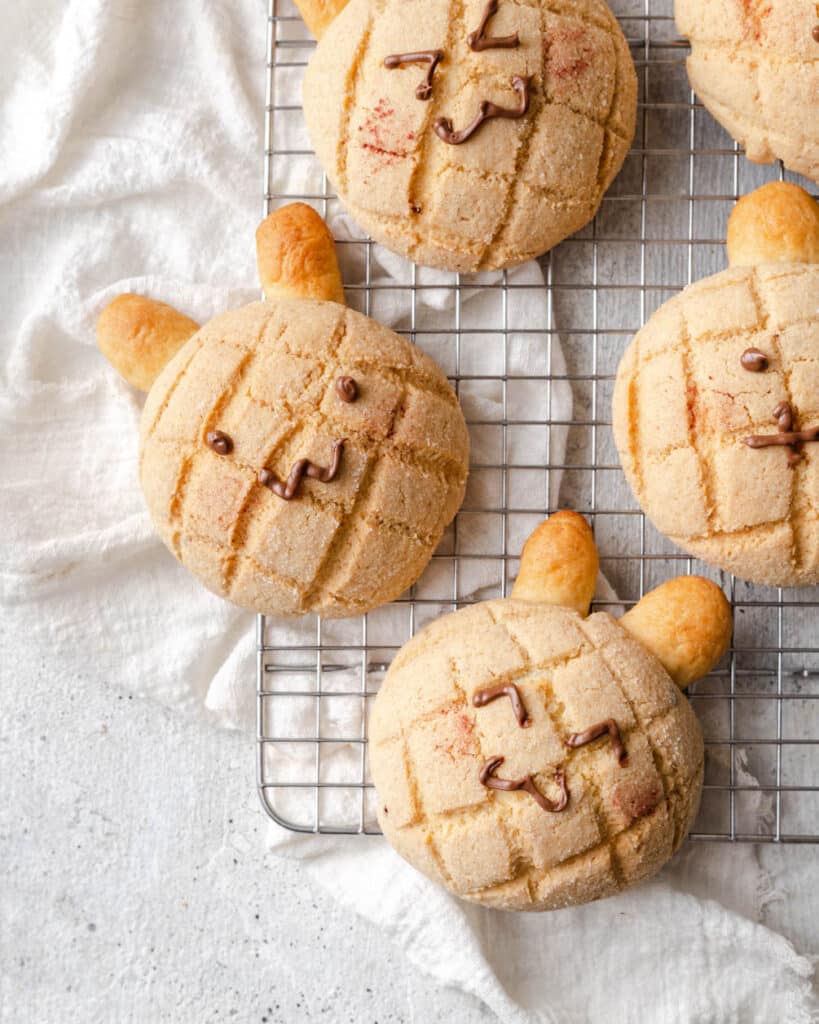 Other bread recipes to try:
If you make this recipe, please let me know! I always love to see what my readers are baking. You can comment below or tag me on Instagram @halicopteraway.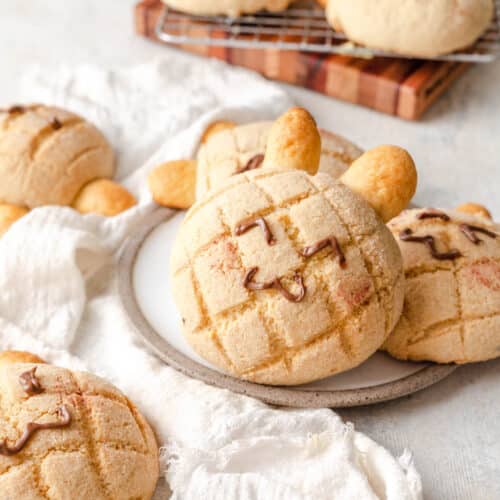 Cute bunny melon pan
These melon pan are made with soft and fluffy milk bread and covered with a sweet cookie crust. They're shaped like adorable bunnies to celebrate the Year of the Rabbit!
Equipment
Mixing bowls

Rolling Pin

Baking tray

Hand or stand mixer
Ingredients
Tangzhong (makes 1/2 cup)
3

tbsp (23g)

bread flour

1/4

cup (60g)

water

1/4

cup (60g)

milk
Dough
1/2

cup

Tangzhong (see above)

1/2

cup (120g)

lukewarm milk

2

tsp

instant or active dry yeast

1/4

cup (50g)

granulated sugar

2 1/2

cups (325g)

bread flour

1

egg

1

tsp

salt

4

tbsp (60g)

unsalted butter, room temperature
Cookie topping
4

tbsp (60g)

unsalted butter, room temperature

1/2

cup (100g)

granulated sugar

1

egg, beaten

1 1/2

cups (176g)

all purpose flour

3

tbsp (24g)

corn starch

1/2

tsp

baking powder

2

tbsp

granulated sugar (for topping)
Milk wash
Small amount of milk for brushing before baking (optional)
Decoration
Melted chocolate or Nutella
Instructions
Make the tangzhong
In small skillet or pot, whisk together flour, milk, and water until smooth. Bring to simmer over medium-low heat, whisking frequently, until mixture has thickened but is still pourable. It should take 5 – 10 minutes. Your whisk should leave a mark when dragged along the bottom of the pan.

Pour into a bowl and cover surface with plastic wrap to prevent a film from forming, and allow to cool to room temperature.
Make the dough
Mix together yeast, sugar, and warm milk and set aside for 5 minutes. The milk should feel comfortably warm to the touch, but not hot, otherwise it will kill your yeast. The mixture should become frothy and active if your yeast is alive. If there are no signs of activity, throw it out and try again.

Combine flour, egg, milk & yeast mixture, 1/2 cup of tangzhong, and salt in a mixing bowl. Using a stand mixer fitted with a dough hook attachment, mix on medium speed until just combined. While the stand mixer is running, slowly add the pieces of softened butter until completely incorporated. Knead for another 15 – 20 minutes on medium speed until the dough is smooth and passes the window pane test.

Shape the dough into a ball and place in a lightly greased bowl. Cover and let rise for about 1 hour until doubled in size.
Make the cookie dough
In a mixing bowl, mix together the all purpose flour, corn starch, and baking powder until well combined. Set aside.

In a separate bowl, use a hand or stand mixer to cream together the butter and sugar until light and fluffy. Add the beaten egg in 3 additions, mixing well in between each addition.

Add the dry ingredients to the wet and mix on low speed until a dough forms

Divide the dough into 10 equal pieces and roll each piece into a ball. Place in the fridge to chill for at least 10 minutes.
Shape the buns
Line a baking tray with parchment paper

Place 2 tbsp of granulated sugar into a bowl. This will be used to roll the buns in before scoring and baking.

After the dough has doubled in size, punch it down to release air and turn onto a floured countertop. Divide into 10 equal pieces (~70g each in weight).

Take one piece of dough and cut off about a quarter of the dough and set aside. This will be used for the ears. Shape the remaining dough into a smooth ball.

Take a ball of cookie dough and roll it out between 2 sheets of parchment paper until it's about 4 – 5 inches wide in diameter. Place the ball of dough in the middle of the cookie and pinch the edges around the dough. Place the bun on the countertop and gently roll to tuck in the seams. The smooth side of the cookie dough should face up.

Roll the bun into the granulated sugar until the cookie topping is fully covered. Brush off any excess sugar and then use a knife or bench scraper to score cross-hatched lines across the top of the cookie dough.

Take the small piece of dough that you set aside earlier and divide into 2 pieces. Shape into bunny ears. Place the bun on top of the ears. Set each completed bun on a baking tray, leaving about 2 inches of room between each bun.

Let proof for another 30 – 45 minutes until the buns have expanded about 50%

Towards the end of the proof, preheat the oven to 350°F. Brush the bunny ears with a little bit of milk to help them brown in the oven. Bake for 20 – 25 minutes until the cookie crust is just beginning to brown, and the buns make a hollow sound when tapped.

Remove from the oven and let cool completely. Once cool, draw on bunny faces with melted chocolate or Nutella