Soft and fluffy milk bread buns are filled with vanilla pastry cream and topped with caramelized sugar for the ultimate creme brulee-inspired pastry treat!
I love fusion desserts and these creme brulee milk bread buns absolutely deliver on that promise! I use my favorite Japanese milk bread recipe as the base, and then fill each bun with rich and creamy pastry cream and top with caramelized sugar to bring in that creme brulee inspired twist!
How to make perfect fluffy milk bread buns
If you haven't made bread before, I recommend reading my master guide to bread baking. This recipe uses the tangzhong method to achieve a very light and soft crumb – perfect for pairing with sweet cream!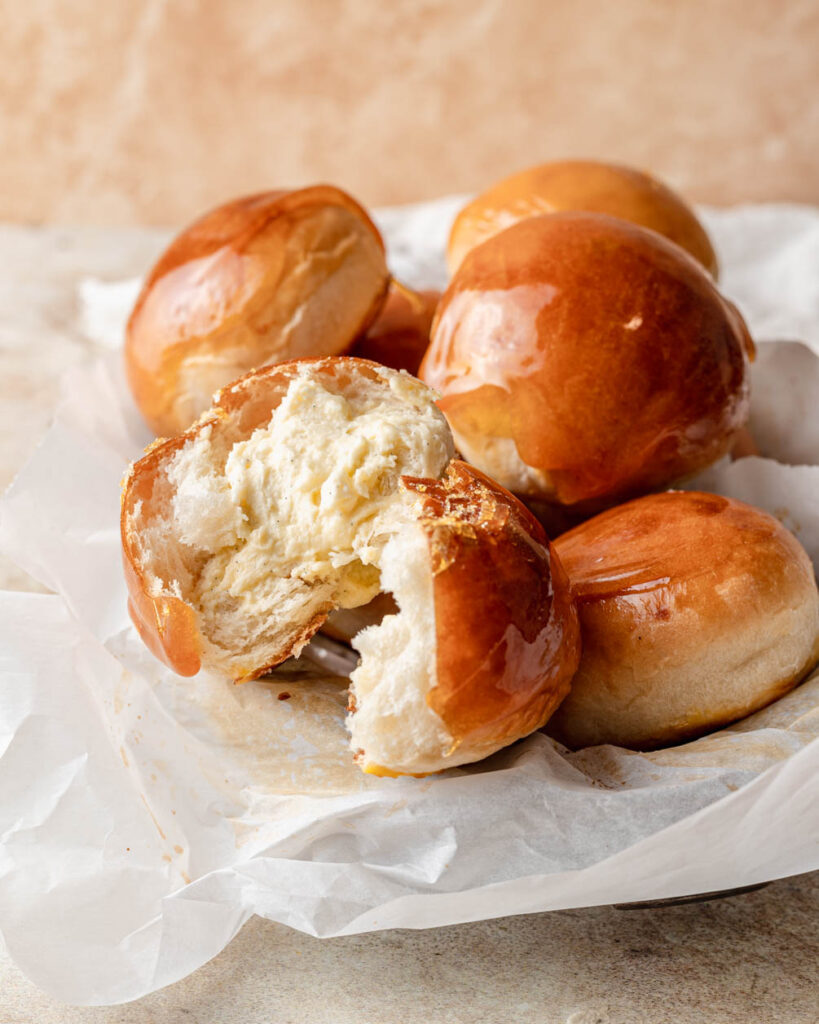 Can I use store-bought rolls?
If you are pressed on time, you can also make these creme brulee buns using store-bought bread rolls. Of course, I always think homemade bread will give you better results but sometimes we just don't have the time and energy needed to make your own bread!
If you're using store-bought buns, I recommend something very soft, buttery, and lightly sweetened, such as brioche.
Shaping the rolls
After the dough has finished proofing, divide the dough into 12 equal pieces. If you're being really precise, each piece should weight about 62g. To get very smooth tops, gently stretch the dough between your hands and tuck in the excess pieces of dough. Roll along your kitchen counter to create surface tension.
How to make smooth and flavorful pastry cream
Pastry cream is made with simple ingredients that come together to create a rich and delicious filling.
For the pastry cream, we'll use the following ingredients:
Milk – Milk is the base of this recipe and you should use either 2% or whole milk to ensure that there is enough fat to create a creamy texture.
Vanilla bean – Because vanilla is the star of the show, I think it's worth it to use real vanilla bean to flavor these buns. However, if you don't have vanilla beans on hand, you can use vanilla bean paste or extract instead.
Sugar – Granulated white sugar adds sweetness
Egg yolks – Egg yolks are a requirement for any custard and add important fats. You can save the whites to use for other recipes, such as macarons!
Corn starch – Corn starch acts as a thickening agent
Salt – Salt helps cut through the sweetness and adds additional flavor
Butter – unsalted butter adds richness and is added last to the hot cream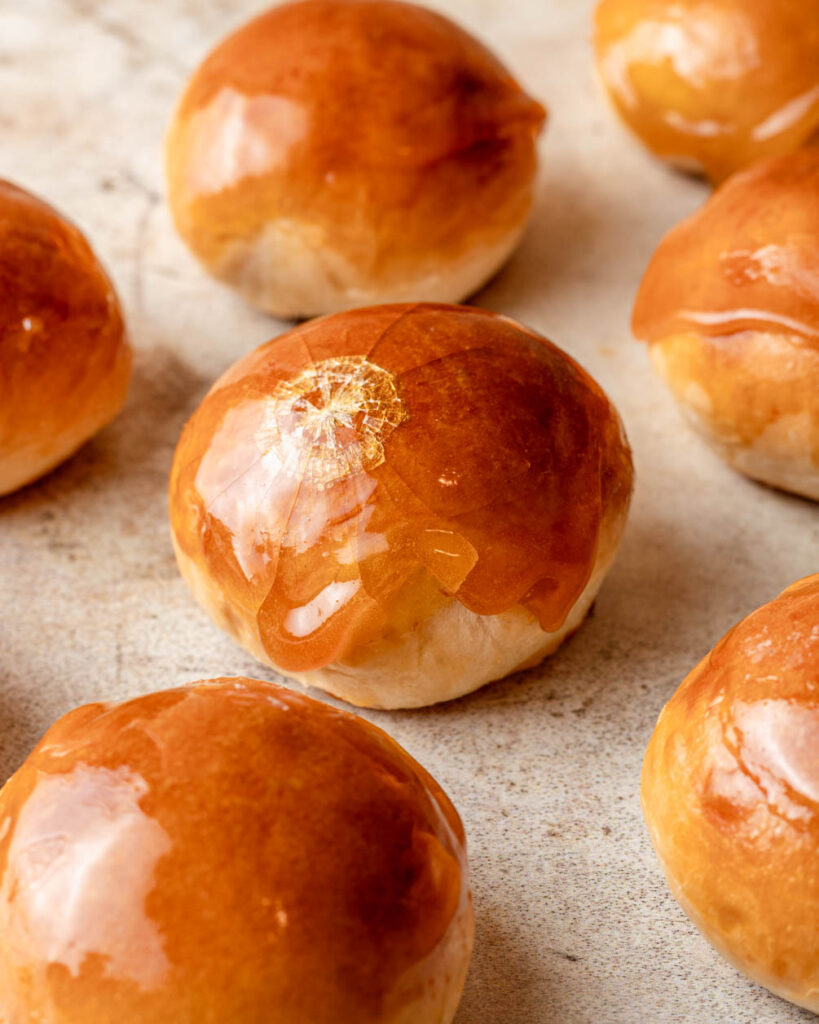 Tips for making pastry cream
If you're using vanilla beans, heat up the milk and steep the bean for 30 minutes to help extract the flavor
Make sure to temper the eggs by slowly pouring the hot milk mixture into the eggs, whisking constantly as you pour. This helps the eggs slowly warm up and avoids scrambling them.
Make sure to watch over your pastry cream and whisk frequently. The cream will thicken up quickly and you want to avoid uneven cooking and lumps
Strain the cream through a fine mesh sieve to remove any lumps
Before filling the buns, we'll lighten the pastry cream by folding in whipped cream to create an airier texture.
How to fill bread buns with cream
You'll need a piping bag fitted with a 1/4 inch round piping tip. Before filling the buns, you need to poke a hole in the bottom of the bun and use your finger or a butter knife to poke the inside of the bun to create space for the filling. This is very important – otherwise, you won't be able to pipe in any cream.
When filling the bun, you want to insert the piping tip and squeeze gently. As the bun fills, you will feel it becoming heavier. Pipe in as much cream as can fit to ensure that there is delicious filling in every bite!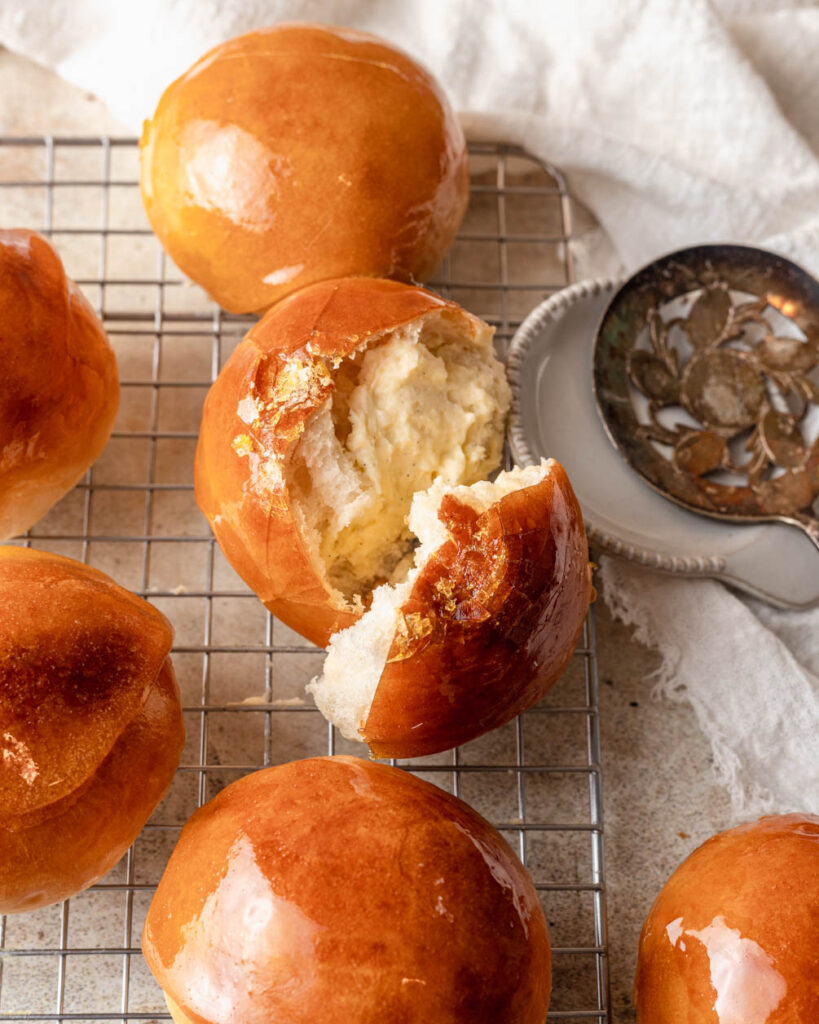 How to add the burnt caramel crust
We're going to use a dry caramel method in order to make the sugar crust, which means we'll add white sugar directly to a pan without adding any water. The dry caramel method helps create a caramel more quickly.
Tips for handling caramel
Use a small skillet and heat only about 1/3 cup of sugar at a time. The caramel sets fairly quickly, so you'll only dip a couple of buns at a time before needing to reheat the sugar
Stir the sugar frequently so that it heats evenly
Be very careful when dipping the buns into the caramel – it is very hot. Keep a glass of cold water close by so you can dip your fingers in if they accidentally touch the hot caramel.
Do I need a blow torch to make these creme brulee buns?
No, you don't need a blow torch! This recipe calls for you to cook the sugar over the stove instead of melting it with a blow torch. This will help give the buns a beautiful and shiny sugar coating.
Other delicious bread recipes to try
These buns are an absolutely delectable treat, and are so fun to make!
If you make this recipe, please let me know! I always love to see what my readers are baking. You can comment below or tag me on Instagram @halicopteraway.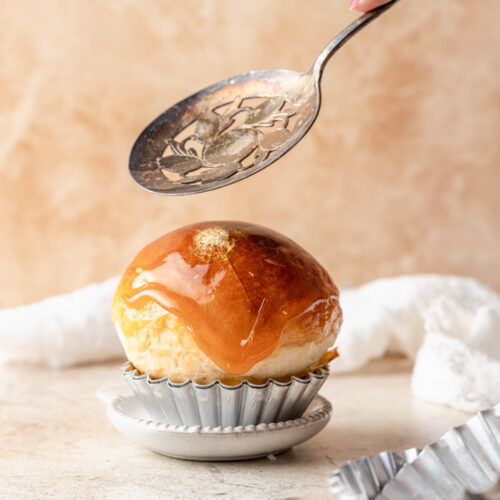 Creme brulee milk bread
Soft and fluffy milk bread buns are filled with vanilla pastry cream and topped with caramelized sugar for the ultimate creme brulee-inspired pastry treat!
Equipment
Mixing bowl

Sauce pan

Piping bag

1/4 inch piping tip
Ingredients
Tangzhong (makes 1/2 cup)
1/4

cup (60g)

water

1/4

cup (60g)

milk

3

tbsp (23g)

bread flour
Dough
1/2

cup

Tangzhong (see above)

1/2

cup (120g)

milk

2

tsp

instant or active dry yeast

1/4

cup (50g)

granulated sugar

2 1/2

cups (325g)

bread flour

1

egg

1

tsp

salt

4

tbsp (60g)

unsalted butter, room temperature

oil for greasing
Egg wash
1

egg

2

tbsp

milk or water
Vanilla cream filling
2

cups (480g)

2% or whole milk (see note)

1

vanilla bean (see note)

1/2

cup (100g)

granulated sugar

3

tbsp (30g)

corn starch

1/8

tsp

salt

4

egg yolks

2

tbsp (30g)

unsalted butter, cubed

1

cup (240g)

heavy whipping cream
Caramelized sugar topping
1 1/2

cups (300g)

granulated sugar
Instructions
Make the tangzhong
In small skillet or pot, whisk together flour, milk, and water until smooth. Bring to simmer over medium-low heat, whisking frequently, until mixture has thickened but is still pourable. It should take 5 – 10 minutes. Your whisk should leave a mark when dragged along the bottom of the pan.

Pour into a bowl and cover surface with plastic wrap to prevent a film from forming, and allow to cool to room temperature.
Make the dough
Mix together yeast, sugar, and warm milk and set aside for 5 minutes. The milk should feel comfortably warm to the touch, but not hot, otherwise it will kill your yeast. The mixture should become frothy and active if your yeast is alive. If there are no signs of activity, throw it out and try again.

Combine flour, egg, milk & yeast mixture, 1/2 cup of tangzhong, and salt in a mixing bowl. Using a stand mixer fitted with a dough hook attachment, mix on medium speed until just combined. While the stand mixer is running, slowly add the pieces of softened butter until completely incorporated. Knead for another 15 – 20 minutes on medium speed until the dough is smooth and passes the window pane test.

Shape the dough into a ball and place in a lightly greased bowl. Cover and let rise for about 1 hour until doubled in size.
Make the pastry cream
In a sauce pan or skillet, add the milk. Slice the vanilla bean in half, scrape out the filling, and add the filling and the bean to the milk. Bring to a simmer on medium heat, stirring constantly. Remove from heat and let steep for 30 minutes to absorb the flavor.

Add the egg yolks, sugar, corn starch, and salt to a mixing bowl. Whisk together until the egg is light and fluffy and falls in ribbons off the whisk.

Slowly pour the hot milk mixture into the eggs, whisking as you pour. After all the milk has been added, return the mixture to the pan. Cook on medium heat, whisking constantly, until the cream has thickened. Remove from heat and stir in the butter until well incorporated. Pass through a fine mesh sieve to remove any lumps, and cover with plastic wrap. The plastic wrap should touch the top of the cream to prevent a film from forming. Let cool for 30 minutes, then place in the fridge to finish cooling.
Make the buns
Line a baking tray with parchment paper

After the dough has doubled in size, punch it down to release air and turn onto a floured countertop. Divide into 12 equal pieces (~62g each in weight) and shape each piece into a smooth ball. Place the balls on a baking tray spaced about 2 inches apart.

Whisk together egg and milk to make an egg wash. Brush the tops of the buns right after you shape them. Set aside the egg wash to use again right before baking. This helps provide a deep golden brown color in the oven.

Cover the buns and let them proof for another 30 – 45 minutes. When you poke your finger into the dough, it should come back about halfway when it's ready to bake. Towards the end of the proof, preheat the oven to 350°F.

Once the buns are proofed, brush again with egg wash. Place in the middle rack of the oven and bake for 15 – 18 minutes until golden brown and they make a hollow sound when tapped. Remove from the oven and place on a wire cooling rack to cool completely before filling.
Fill the buns
Use a butter knife or your finger to poke a hole into the bottom of each bun. Wiggle your finger around the inside of the bun to make room for the cream.

Pour the heavy whipping cream into a mixing bowl and whip until stiff peaks form. Gently fold the cream into the pastry cream until evenly distributed.

Place into a piping bag fitted with a 1/4 tip. Place the tip into the hole you made earlier and fill generously. Repeat for each bun.
Caramelize the buns
Add about 1/3 cup of sugar to a small skillet and cook over medium heat until the sugar dissolves and turns golden brown. Remove from heat and gently dip the top of each bun into the sugar, being careful to avoid touching the caramel with your fingers. You may need to tilt the skillet so that the caramel pools on one side. You'll be able to dip about 2 – 3 buns before the caramel hardens.

Return the caramel to the stove, and reheat until it melts. Add about another 1/3 cup of sugar each time you reheat. Continue to dip the buns and reheat the caramel.

Once buns are dipped into the caramel, they are best enjoyed on the same day.
Notes
If you don't want to make the bread buns, you can replace with store-bought soft rolls. I recommend something soft and buttery such as brioche.
For the pastry cream, it is important to use 2% or whole milk to achieve the correct texture
You can replace the vanilla bean with 1 tbsp of vanilla extract
The buns and pastry cream can be made one day ahead and then assembled on the day that you would like to eat them. Once the buns are fully assembled, they should be eaten on the same day to avoid the sugar softening.