These pumpkin milk bread rolls take a classic milk bread recipe and add pumpkin puree for the perfect fluffy fall bread rolls. They're shaped to look like miniature pumpkins so they'll be the cutest rolls at your Thanksgiving dinner! Pair them with homemade maple cinnamon butter for the perfect fall treat.
Bread rolls are the subtle star of any holiday dinner. The perfect roll is fluffy, soft, and perfect paired with sweet or savory dishes. Bonus points if they look cute and garner you compliments on their charming appearance.
These pumpkin milk bread rolls do all that and more – they're made with my favorite milk bread recipe, but modified to add pumpkin puree for some extra fall flavor.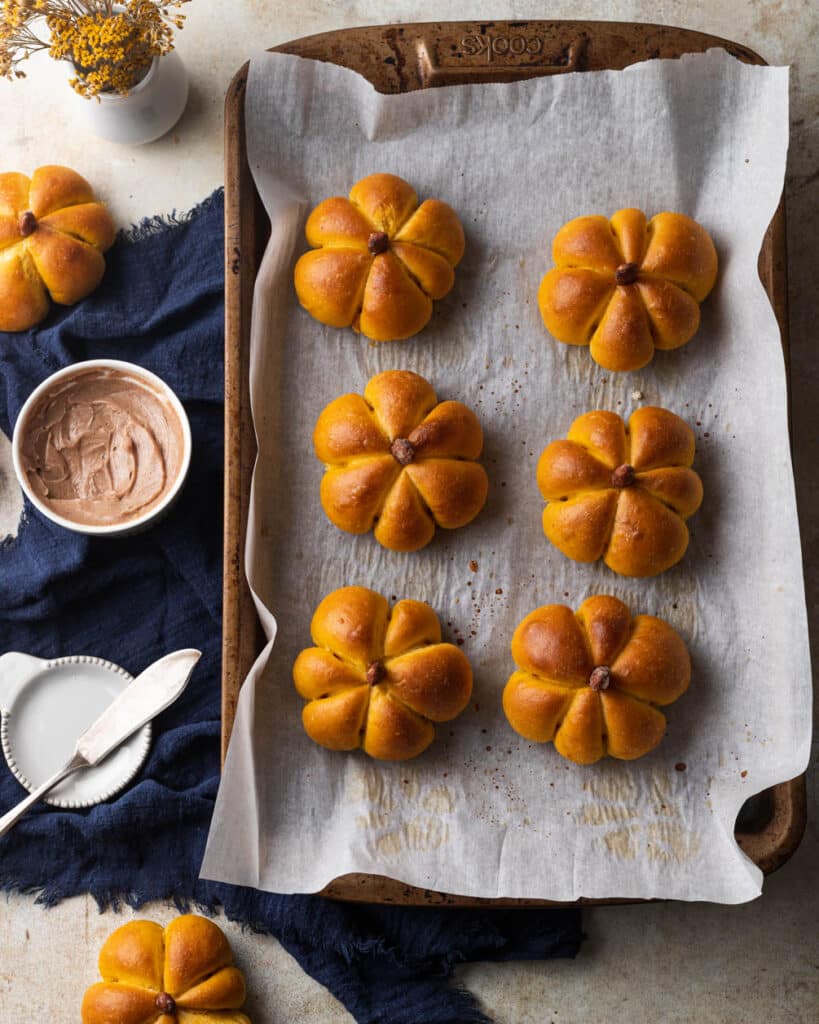 How to make pumpkin milk bread
This pumpkin milk bread has a number of ingredients that make it super soft and fluffy –
Tangzhong – Tangzhong is a roux made from cooking flour and liquid together, and it helps make bread extra soft and fluffy, with a longer shelf life.
Bread flour – This recipe calls for bread flour to give the rolls an amazing fluffy rise. I would not recommend substituting all purpose flour for this recipe. The dough is fairly wet and slack, and bread flour helps absorb more moisture.
Milk – Milk adds moisture and flavor. I typically use 2% milk when baking, but whole milk, skim milk, or milk substitutes should all work
Yeast – You can use either instant yeast or active dry yeast for this recipe, since it blooms and activates the yeast in milk. Make sure your yeast is relatively fresh
Granulated sugar – a quarter cup of sugar adds a subtle sweetness. If you would like more of a savory roll, you can reduce the sugar to 2 tbsp
Salt – Salt adds flavor and helps strengthen the gluten in the dough. Don't skip it!
Pumpkin puree – Pumpkin puree adds flavor, moisture, and beautiful orange color. Make sure to use canned pumpkin puree, not pumpkin pie filling.
Egg – Egg helps bind the dough together
Butter – softened butter adds flavor and helps create a smooth and silky dough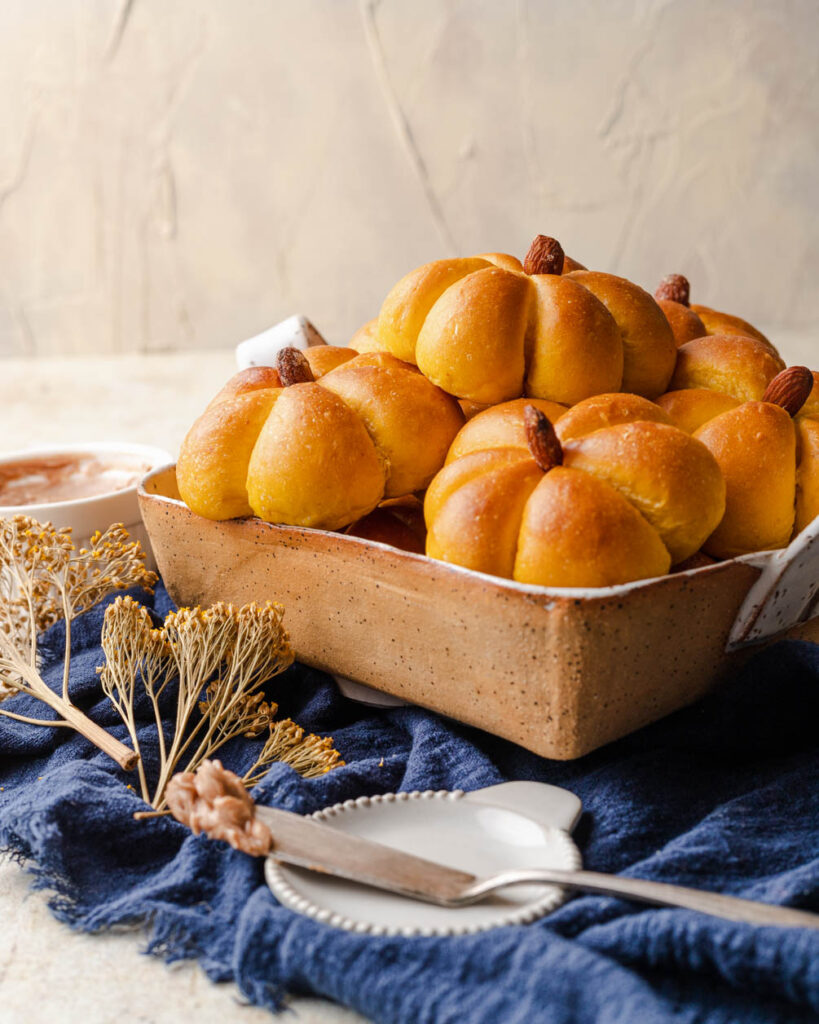 Tips for making pumpkin milk bread
If this is your first time making bread, I recommend reading my guide to enriched bread. Here are tips to help you make some delicious rolls:
With the pumpkin puree, milk, butter, and egg, the dough is can be quite wet and slack when you mix together the ingredients. I recommend using a stand mixer. If you want to make this by hand, it's definitely possible but will take more time and effort. I recommend letting the dough rest for 20 – 30 minutes to absorb moisture before kneading by hand. I also recommend using the slap and fold method and having a lot of patience.
Make sure to knead until the dough reaches a strong window pane. For me, this is 15 – 20 minutes on medium-high speed on my stand mixer. The dough should no longer stick to your hands one it's been properly kneaded. This step is important because it helps make the dough easier to shape into little pumpkin rolls
Be patient with the final proof. If the dough is underproofed, some of the pumpkin sections might bulge and tear. As a result, they'll look less like pumpkins though they'll still taste delicious. I use the poke test to see if my rolls are ready – I lightly cover my finger in flour, then firmly poke the roll. The dough should slowly rise up halfway to fill the indent. If it fills up quickly or all the way, give it more time.
How to shape the pumpkin bread rolls
This is definitely the most fun part of making pumpkin bread rolls! For this step, you'll need butcher's twine, which is an oven-safe string.
Start by cutting a dozen pieces of string, each 2 feet long
Dip each piece of string in oil, squeezing off the excess. Greasing the string makes them easier to peel off after baking
Place the roll in the center of the string. Bring the two ends of the string up, then twist together around the roll, like you're about to tie a bow. Shift the loose ends of string so that they're at a 60 degree angle, then loop around the bottom of the roll. Repeat, and then loop back around the top of the bow and tie into a knot. The roll should be divided into 6 even sections by the string.
Don't squeeze the string too tightly around the roll, as it will expand as it proofs and bakes
Snip off any extra string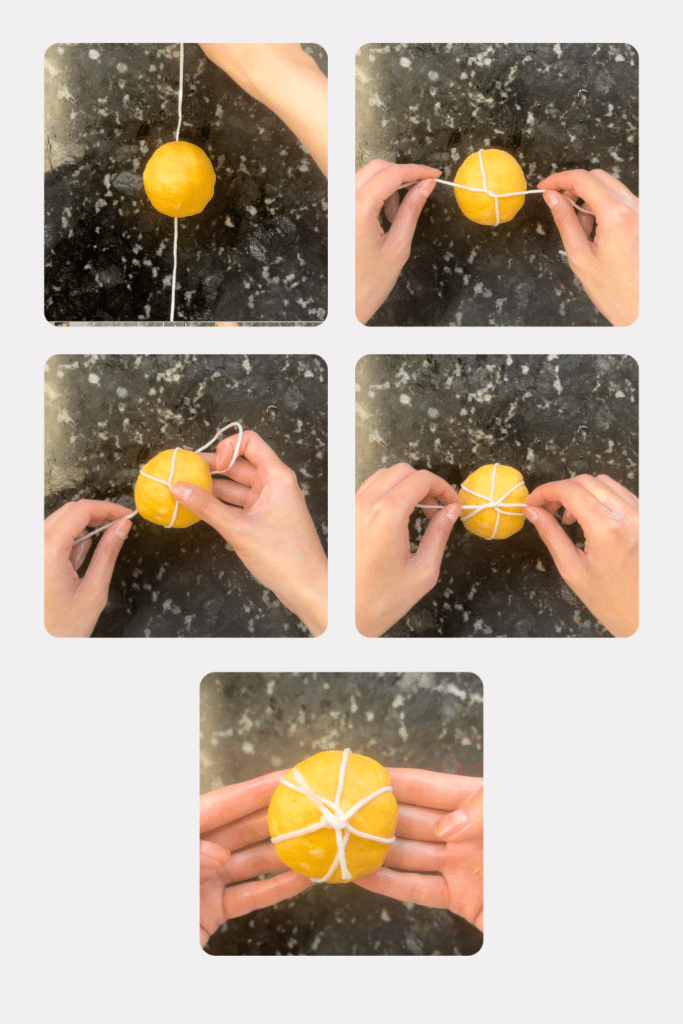 How to make maple cinnamon butter
A roll is not complete without the perfect side of butter, and this maple cinnamon butter is pure perfection. It comes together very easily – just mix together softened butter, maple syrup, and cinnamon. A couple of notes on the butter recipe:
Make sure that the butter is softened so that it blends well. You can put it back in the fridge to set up before serving.
I recommend using real maple syrup, as there is a notable different in flavor between real maple syrup and flavored corn syrup.
The recipe calls for 6 tbsp of butter so that you only need 1 stick of butter (8 tbsp) to make the dough and the butter together.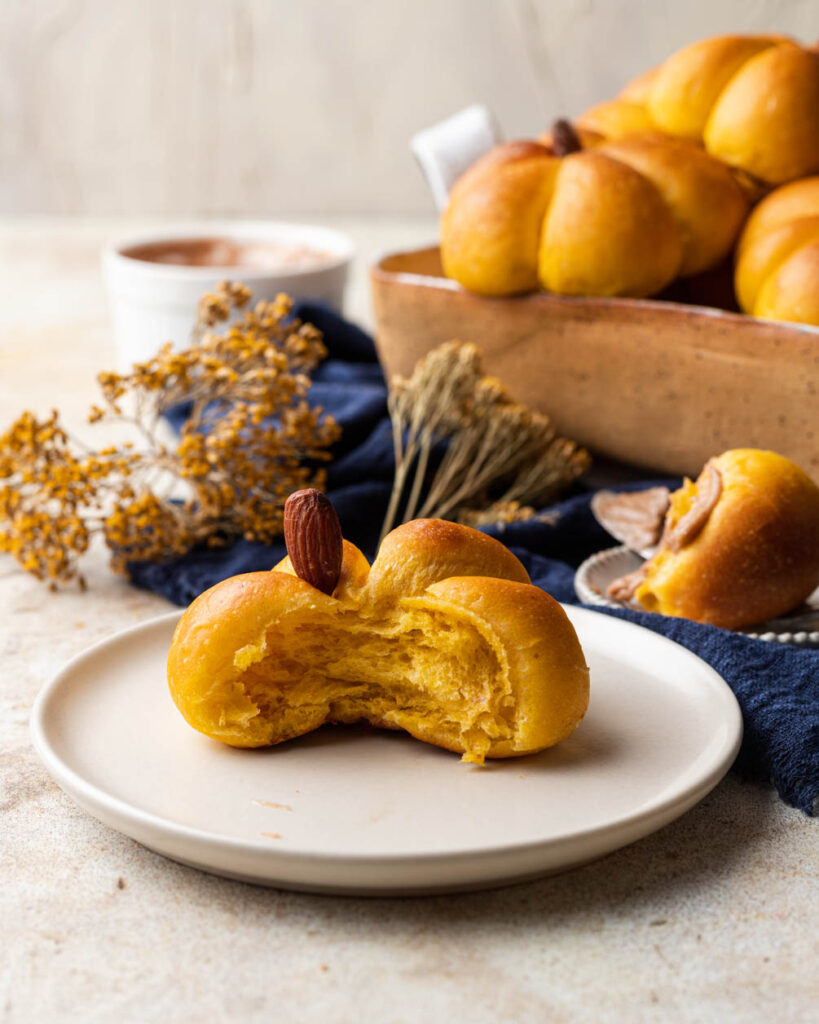 Other cozy fall bread recipes to try
If you make this recipe, please let me know! I always love to see what my readers are baking. You can comment below or tag me on Instagram @halicopteraway.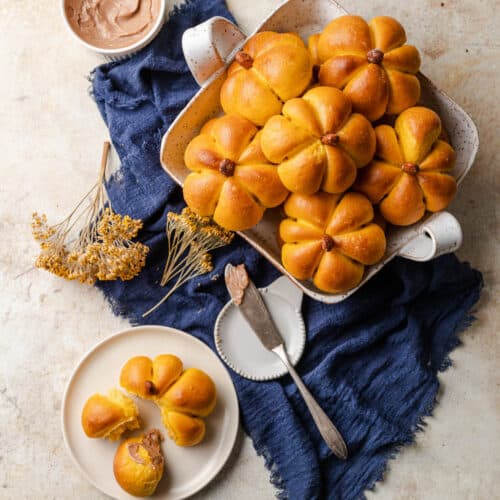 Pumpkin milk bread rolls
These pumpkin milk bread rolls take a classic milk bread recipe and add pumpkin puree for the perfect fluffy fall bread rolls. They're shaped to look like miniature pumpkins so they'll be the cutest rolls at your Thanksgiving dinner! Pair them with homemade maple cinnamon butter for the perfect fall treat.
Equipment
Large mixing bowl

Baking sheet

Butcher's string (at least 24 feet)
Ingredients
Tangzhong
3

tbsp (23g)

bread flour

1/4

cup (60g)

water

1/4

cup (60g)

milk
Bread dough
1/4

cup (60g)

milk

2

tsp (7g)

instant or active dry yeast

1/4

cup (50g)

granulated sugar

2 1/2

cups (325g)

bread flour

1

tsp

salt

1/2

cup (115g)

canned pumpkin puree

1

egg

1/2

cup

tangzhong (see above)

2

tbsp (30g)

unsalted butter, softened

2

tbsp

milk or heavy cream, for brushing

2

tbsp

oil, for greasing

12

almonds, for the pumpkin stems
Maple cinnamon butter
6

tbsp

unsalted butter, softened

1 1/2

tbsp

maple syrup

3/4

tsp

cinnamon
Instructions
Make the tangzhong
In small skillet or pot, whisk together flour, milk, and water until smooth. Bring to simmer over medium-low heat, whisking frequently, until mixture has thickened but is still pourable. It should take 5 – 10 minutes. Your whisk should leave a mark when dragged along the bottom of the pan.

Pour into a bowl and cover surface with plastic wrap to prevent a film from forming, and allow to cool to room temperature.
Make dough
Mix together yeast, warm milk, and sugar and set aside for 5 minutes. The milk should feel comfortably warm to the touch, but not hot, otherwise it will kill your yeast.

In a large bowl, mix together the flour, and salt. Add the pumpkin puree, egg, tangzhong, and milk mixture. If using a stand mixer, mix on medium speed using a dough hook attachment until the dough comes together.

Add the softened butter and mix on medium – high speed until the dough pulls away from the sides of the bowl, and when the dough is smooth and passes the window pane test. This can take 15 – 20 minutes and at first the dough will be quite wet and slack.

Shape into a ball and place into a lightly greased mixing bowl. Cover with plastic wrap and let rise for 40 – 60 minutes until roughly doubled in size.
Assemble the rolls
Cut 12 pieces of butcher's twine, each 2 feet long. Line 2 baking sheets with parchment paper

Punch down the dough and turn out onto a floured countertop. Divide into 12 equal pieces (61g each)

To shape the rolls, dip each piece of butcher's twine into oil, squeezing out any excess. Place the roll in the middle of the string, then bring up both ends and twist over the roll as though you are going to tie a bow. Angle the string, then wrap around the bottom of the roll and bring back up and around. The string should now divide the roll into 6 equal sections. Tie into a knot and cut off any extra ends. Do not tie the string tightly, as the rolls will expand Refer to the picture above for a visual aid

Place each roll on the baking sheet, space 2 inches apart. Let proof for another 30 minutes until puffy. Towards the end of the proof, preheat the oven to 350°F

Brush the tops of each roll with milk. Place in the middle rack of the oven and bake for 15 – 18 minutes until golden brown and they make a hollow noise when tapped

Remove from the oven and let cool until they're comfortable to touch. Gently peel off the string while the rolls are still warm

Press an almond into the center top of each roll to create the stem
Make the maple cinnamon butter
Add the softened butter, maple syrup, and cinnamon to a bowl. Mix together with a spatula until evenly combined