These soft, buttery dinner rolls are made with pumpkin puree and flavored with fragrant rosemary and cardamom. Brown butter adds extra richness for the perfect savory bread roll!
As far as I'm concerned, pumpkin season doesn't end until Thanksgiving (and Christmas doesn't really start 'til after). I'm going to be enjoying all things pumpkin until the last piece of turkey is gobbled down.
With all the pumpkin spice recipes floating around, this recipe takes more of a savory spin with a pumpkin and rosemary combo. They're soft and incredibly fluffy – perfect for spreading with butter or mopping up some soup and gravy. I think these would be perfect for gracing a Thanksgiving dinner table, or for using up any leftover pumpkin puree the day after!
I use brown butter to bring an incredible nutty aroma to these rolls. If you've never made brown butter before, just know that the smell will make you float straight to baked goods heaven. It is PHENOMENAL. 
To go with the rosemary, pumpkin, and brown butter, a pinch of ground cardamom further brings out the subtle fragrance of these rolls. If you don't have cardamom, cinnamon will also work. But I just love the warm and slightly floral hints that cardamom brings 🙂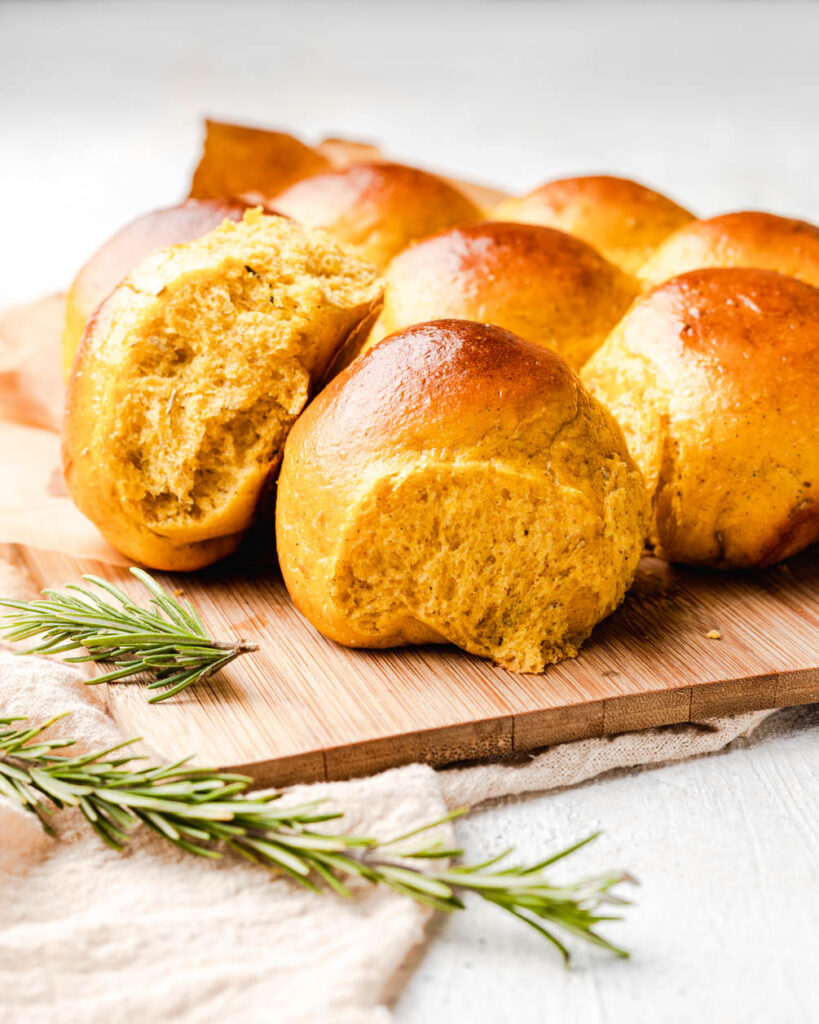 Tips for making perfect bread
These rolls are made with an enriched dough, meaning there's addition of milk and fats (butter). If you're a beginner bread baker, I recommend reading my guide to baking enriched breads. It'll go through the different stages of bread baking and what to watch out for in order to create a perfect loaf. 
Some general tips to avoid disaster:
I strongly recommend using a food scale when baking bread because accurate measurements are key. If you choose to use cups, make sure you use the spoon & level method in this article. Otherwise, it can be easy to overscoop the amount of flour. 
When mixing the milk and the yeast, make sure your milk is lukewarm, not hot. Hot milk will cook and kill your yeast and you will end up with a hockey puck loaf. 
Be patient when kneading the dough. You want to be able to create a "window pane" when you stretch the dough between your fingers, which indicates sufficient gluten development.
Rise times will vary slightly depending on the temperature of your kitchen. A good rule of thumb for the first rise is when the dough has doubled in size. A good indicator for the second rise is the poke test – press your index finger into the dough. If it springs back halfway, it's good to go. If it springs back all the way, it still needs a little more time.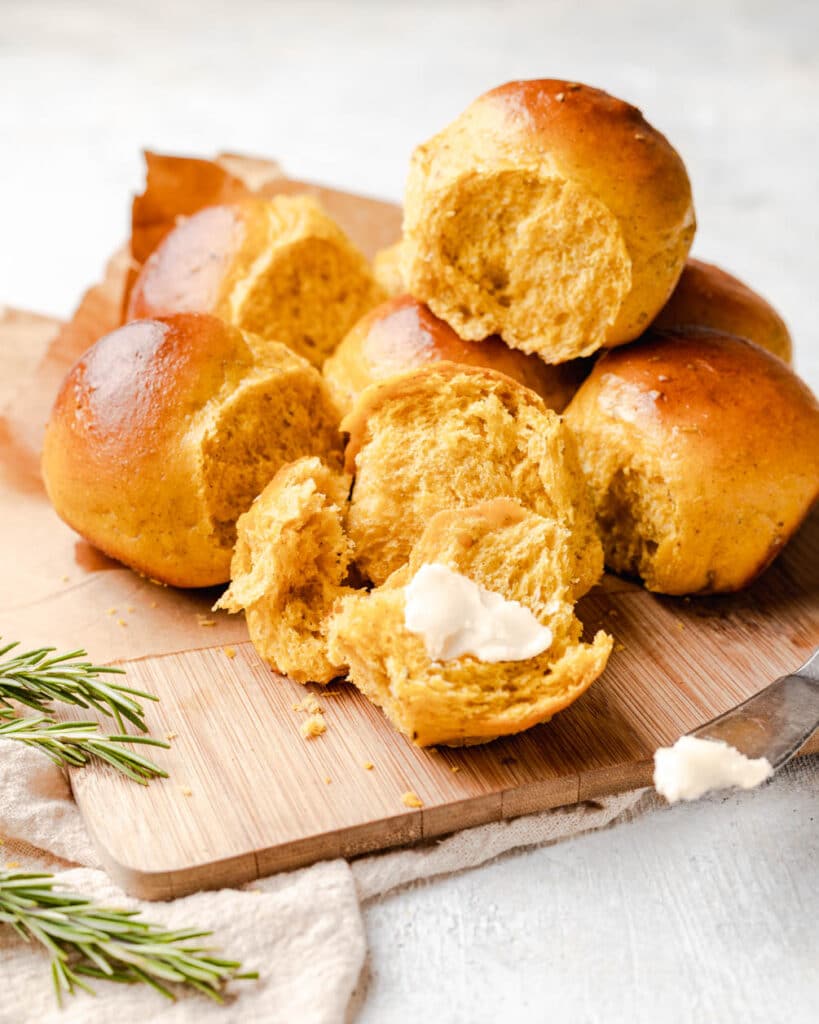 Can I make these rolls by hand?
The dough for these rolls is very loose and slack. I strongly recommend using a stand mixer. If you would like a soft and fluffy bread recipe that can be done by hand, I recommend my Japanese milk bread.
I know working with yeast can be intimidating, but with a little practice and diligence, you'll be on your way to making perfect rolls!
Other bread recipes I love:
If you make this recipe, let me know! I love seeing your bakes. You can comment below or tag me on Instagram @halicopteraway or #halicopteraway.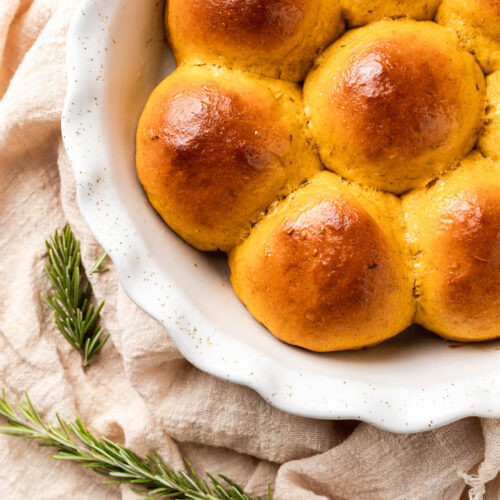 Rosemary pumpkin dinner rolls
These soft, buttery bread rolls are made with pumpkin puree and flavored with fragrant rosemary and cardamom. Brown butter adds extra richness for the perfect savory dinner roll!
Equipment
Stand mixer

8 or 9 in. round baking tin
Ingredients
2

tbsp (26g)

unsalted butter, cut into pieces

2 1/4

tsp

active dry or instant yeast (1 standard packet)

1 1/2

tbsp

granulated sugar

1/4

cup (60g)

lukewarm milk

2

cups (250g)

all-purpose flour

1

egg

1/2

cup (100g)

pumpkin puree

3/4

tsp

salt

1 1/2

tsp

dried rosemary

3/4

tsp

ground cardamom
For the egg wash
1

egg

1

tbsp

milk or water
Instructions
Prepare your brown butter. Melt the butter in a pan over medium heat. Ideally, use a light-colored pan so you can see the butter browning. Stir the butter constantly. The butter will foam and sizzle and gradually turn golden brown, with a strong nutty smell. Immediately remove from heat and pour into a heat-proof container. Let cool before using it in the dough.

In the bowl of a stand mixer fitted with a dough hook attachment, mix the yeast, sugar, and lukewarm milk. Let it sit for 5-10 minutes until the yeast foams. If there are no signs of yeast activity, it could mean that your yeast is dead. Throw it out and try again.

Add the brown butter, flour, egg, pumpkin puree, salt, dried rosemary, and cardamom into the bowl. Knead the dough on medium-low speed for 20 – 25 minutes. Your stand mixer should be going at a steady speed, but should not be going so quickly that the dough is being slung around. At first, the dough will be very wet and slack. Over time, it will tighten up and should pull away completely from the sides of the bowl. Periodically check to see if the dough passes the window pane test.

Cover the bowl and let the dough proof for 45 minutes to 1 hour until doubled in size.

Grease your baking tin. Remove the dough from the bowl onto a lightly floured surface. Divide into 8 equal pieces and shape each piece into a smooth, round ball. Arrange the rolls evenly within the baking tin.

Cover the tin and let proof for another 45 minutes to 1 hour. When you press your finger into the dough, it should bounce back halfway. Towards the end of the proof, preheat the oven to  375°F.

Beat together the egg and milk to create an egg wash. Brush the tops of the rolls and bake for 20 – 25 minutes until golden brown and makes a hollow sound when tapped.

Let cool in the tin for a few minutes before removing and serving.
Notes
You can replace the cardamom with cinnamon or leave out all together
You can use fresh rosemary instead of dried rosemary. I would suggest using 2 tsp of chopped fresh rosemary since the flavor isn't as concentrated.
You can replace the pumpkin puree with mashed sweet potatoes or regular potatoes
You can choose to skip the egg wash if desired. It provides a deeper color and glossier shine.