Day 0 | Day 1 | Day 2 | Day 3 | Day 4 | Day 5
On today's entry into the bread diaries, I'm delving into a fun little weekend experiment where I used my feet to make a loaf of sourdough bread. Or as I like to call it, "sour-toe" bread.
And no, I did not conduct the whole entire process using my feet. The only part where feet were involved was during kneading, and there's a logical procession of events that led me to this point.
Event 1: A weekend or two before, I spent about 30 minutes kneading a large, very sticky mass of focaccia dough. By the end of it, my arms were absolutely exhausted and I was pretty sure I had not done the dough justice. I just gave up and let it proof.
Event 2: I watched an episodes of "Restaurants on the Edge" that featured a traditional technique to make clay pots. The first step is to mix water and mud and to step on the mixture with your feet. You then knead the clay with your hands – "just like making bread," as noted on the show. In that moment, inspiration struck.
The great realization: Your leg muscles are significantly stronger than your arm muscles. Why in the world can't we knead bread with our feet? There's a little less coordination and finesse, but this could be made up in sheer endurance alone. In theory, all you need to develop gluten in your dough is to agitate it enough for the protein to develop.
Being a bread experimenter, I was quite curious and knew I had to give this a try. Of course, in a highly hygienic manner (yes, I see all of you who are worried about foot hygiene).
The process
I doubled my beginner's sourdough bread recipe, and instead of slapping and folding the dough, I stomped around on it instead.
Before letting my feet touched the dough, I made sure to:
Spread plastic wrap on hardwood floor around a large wooden cutting board.
Center the dough on the cutting board
Wash my feet and ankles thoroughly in hot, soapy water. I scrubbed vigorously.
Minimize contact with the ground. Part of this involved having my boyfriend carry me to the cutting board with the dough.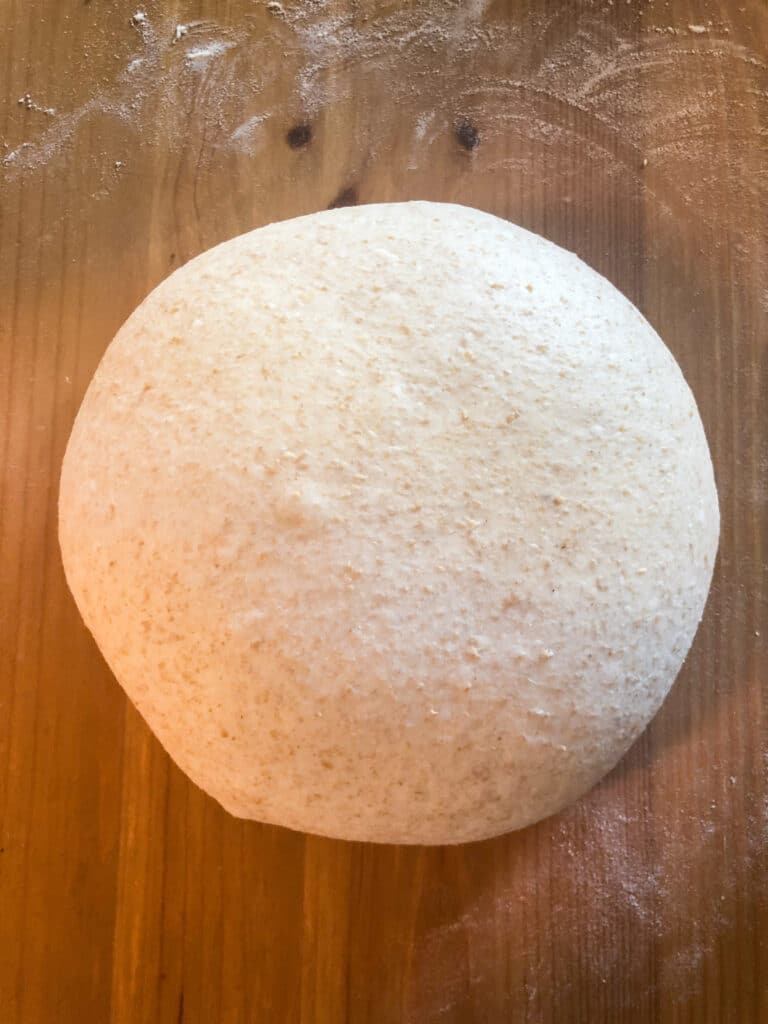 To be honest, there wasn't a lot of technique in the foot kneading. I mostly jumped up and down and did football-style runs. I could definitely feel the cough changing texture and consistency, similar to when I used the slap and fold method.  After about 30 minutes, I had enough gluten development to pass the window pane test, and I had gotten a good workout in as well.
The results
This is where things become a little unclear about the effect of kneading with my feet vs. my hands. I definitely underproofed the loaf, and it turned out tight and gummy. However, I do feel like there was good gluten development, and the crust was a beautiful golden brown.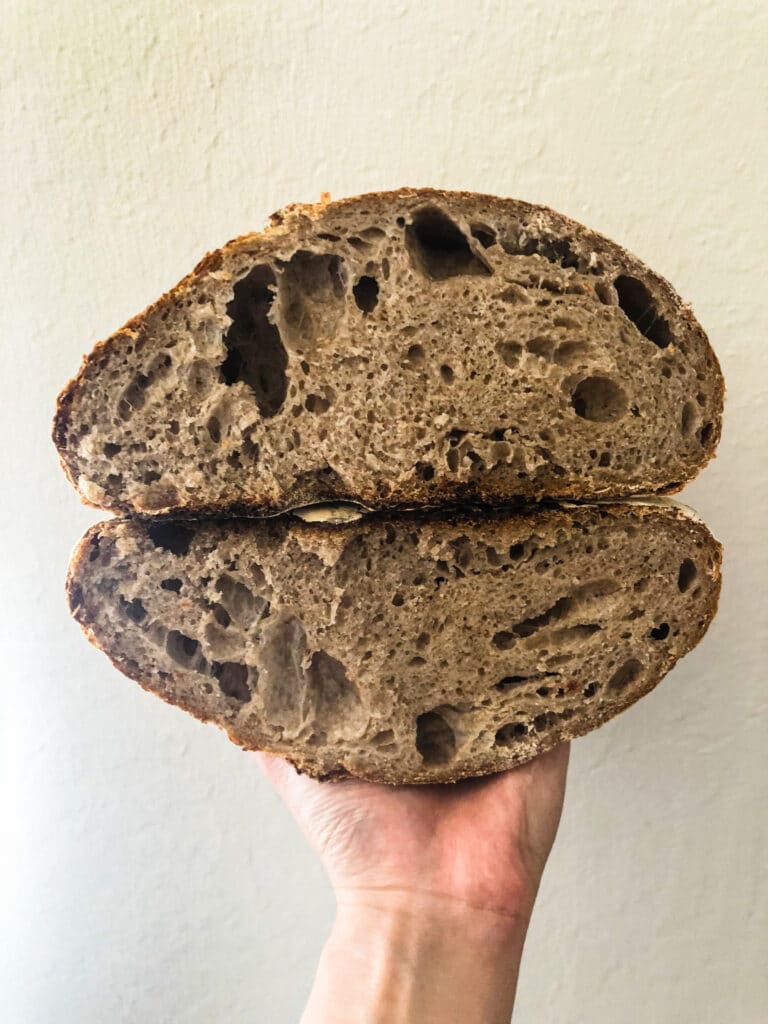 I ended up turning the whole loaf into grilled cheese sandwiches and they were 10/10 delicious.
Would I do it again?
Maybe, just for experimentation purposes. But this time, I would definitely wrap my feet in plastic wrap. I do think it would help with general cleanliness. I had a lot of dough stuck between my toes.
The great takeaway is that making bread is a science, but it's also a lot of fun. It doesn't hurt to experiment and find your own style of doing things! Even if that means making bread with your feet.