These soft and fluffy hedgehog bread rolls have to be one of the cutest things that have come out of my oven. Made with sweet enriched dough, they taste so good you won't feel bad taking a bite out of there cute little heads.
Click here to jump to recipe
One of my favorite parts of baking is creating something fun and new that you can't find in stores. One of my favorite parts of living is admiring cute and useless things (like giant stuffed animals and keychains shaped like loaves of bread). These little hedgehog bread rolls do a pretty good job of combining these two passions of mine.
The inspiration for these rolls comes from my sourdough baking experience, where I use a pair of scissors to snip and score my loaf before throwing it in the oven. I noticed the scissors created sharp pointing spikes in my bread, and it came out looking a bit like a hedgehog. That's when I knew I had to make hedgehog-shaped bread rolls. Cute, completely unpractical, but delicious and so fun.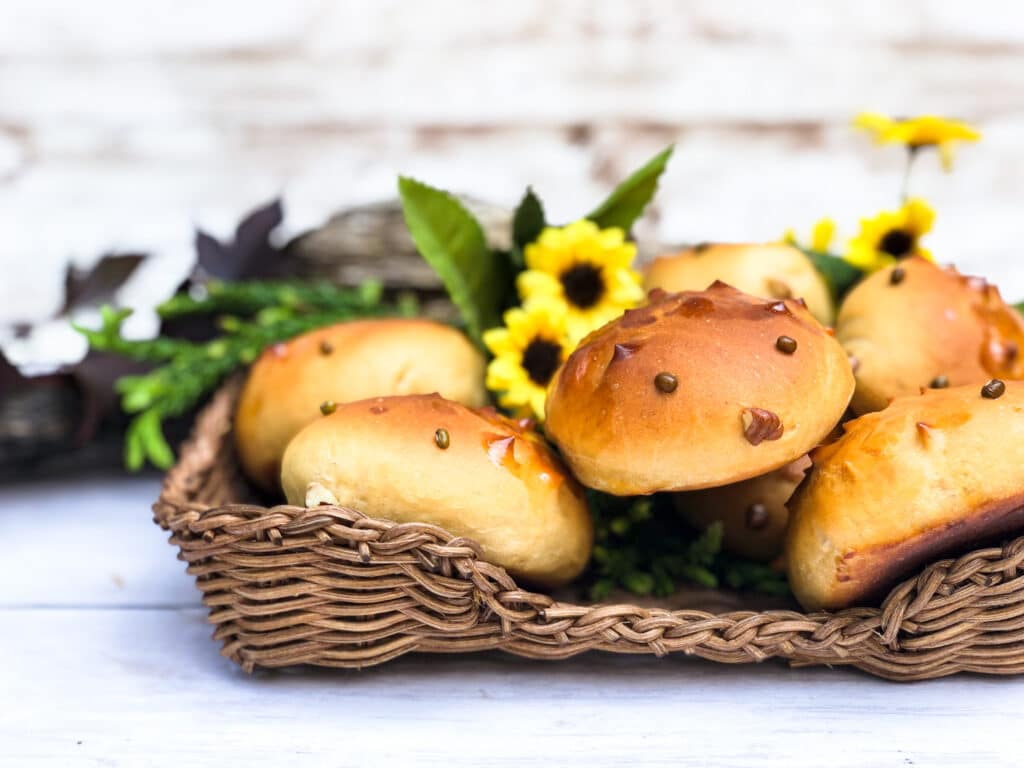 Can I make the dough in advance?
Yes, you can make this dough up to 2 days in advance. Instead of letting it rise for the first time on the countertop, put it in a covered bowl in the fridge for at least ~12 hours and up to 2 days. The colder temperatures will slow down the rise. You can then remove from the fridge to shape, proof, and bake.
Tips and tricks to make these sweet bread rolls
These rolls use the same base bread dough as my honey walnut challah recipe. This dough is especially great for shaping and holding its shape in the oven without a mold. 
If you're new to making bread, you can check out my Guide to Making Enriched Bread, where I outline the basic steps and common pitfalls. This includes tips on kneading, proofing, and shaping.
Use a food scale if you have one – precision is key for making bread. It'll make your life SO much easier, and they are not too expensive. I bought one for about ~$12 off Amazon.
If you find the dough to be resistant or shrinking when shaping, let it rest for 10 minutes before trying again. This helps the gluten relax.
If after proofing you find that the spikes are less pronounced, you can snip the dough again with scissors to add spikes.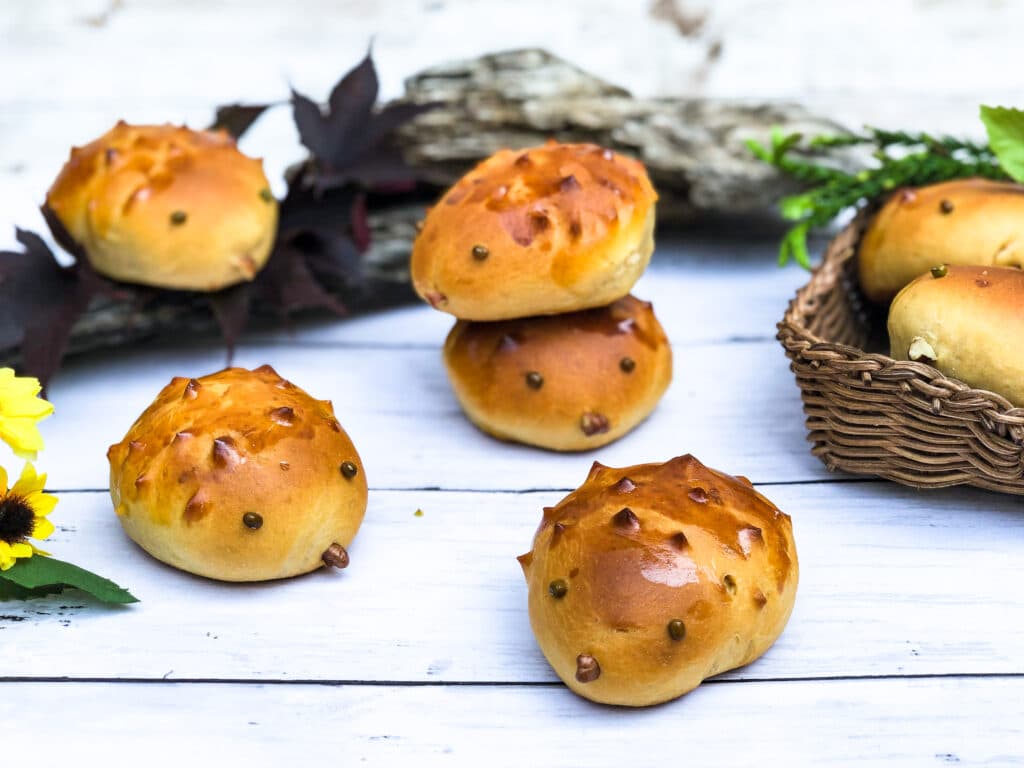 Other fluffy bread recipes:
If you make this recipe, please let me know! I always love to see your creations. You can comment below or tag me @halicopteraway or #halicopteraway on Instagram.
For a video tutorial of the shaping process: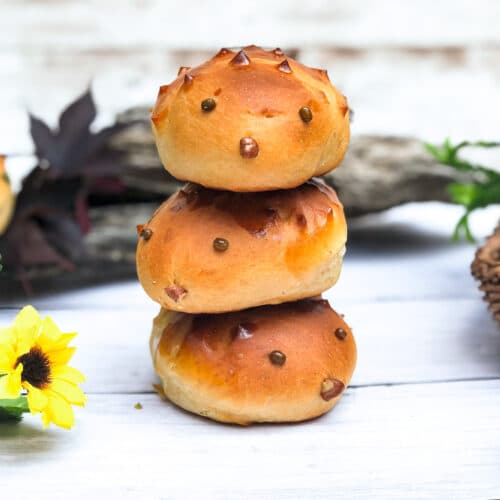 Hedgehog bread rolls
These soft and fluffy hedgehog bread rolls have to be one of the cutest things that have come out of my oven. Made with sweet enriched dough, they taste so good you won't feel bad taking a bite out of there cute little heads.
Equipment
1 medium mixing bowl

1 baking sheet

Parchment paper

Scissors
Ingredients
Dough
1/4

cup (60g)

lukewarm water

3

tbsp (37g)

olive oil

1/8

cup (42g)

honey

1

large egg

2

cups (240g)

all-purpose flour

3/4

tsp

salt

1/2

tbsp

instant or active dry yeast
Hedgehog face decorations
2

walnut halves, broken into 8 pieces

16

mung beans or raisins
Egg wash
1

large egg

1

tbsp

milk or water
Instructions
Mix the quarter cup of lukewarm water with yeast and 1 tbsp of the honey and set aside for 5 minutes. The water should be warm to the touch but not hot.

Combine flour, salt, egg, oil, and remaining honey in a medium mixing bowl. Add water, honey, and yeast mixture. Gently mix together ingredients by hand until a soft, sticky dough forms.

Turn out dough onto a lightly floured surface. Knead the dough until smooth and passes the window pane test. Lightly grease the bowl with oil and place the dough back in.

Cover the bowl with plastic wrap and set aside. Let the dough rise for about 2 hours until roughly doubled in bulk.

Gently deflate the dough and turn out onto a lightly floured surface. Divide into 8 even pieces and shape into ovals with one pointed end. Gently place the rolls on a parchment paper or aluminum foil-lined baking sheet, about 2 inches apart. Place a nut fragment on the pointed tip for the nose. Place two mung beans or raisins for the eyes.

Using a pair of scissors, make a row of snips from one side of the hedgehog to the other. Repeat until you reach the back of the hedgehog. If confused, see the video linked above for the technique.

Cover the rolls with lightly greased plastic wrap and let rise for 90 minutes to 2 hours until puffy. When you poke with a finger, the indent should slowly fill back in to about halfway. Towards the end of the rise, preheat the oven to 375 degrees Fahrenheit.

Make the egg wash by whisking together the egg and water or milk. Brush the spikes with the egg wash, but not the face of the hedgehog. This will help create a color contrast between the spikes and the face.

Insulate the bottom of the rolls by stacking your baking sheet on another baking sheet, or double-lining with parchment paper. Place the rolls in the bottom 1/3 of the oven and bake for 15 – 20 minutes. Remove from oven when the rolls are golden brown and make a hollow sound when tapped.

Remove from oven and place on wire cooling rack.
Notes
For the face:
You can use any sort of nut for the nose. I used walnuts because they are easy to break apart.
I used mung beans for the eyes because they are about the right shape and hold their shape in the oven. If you don't have mung beans on hand (many people don't), you can use small raisins instead. Do not use chocolate chips, as they will melt and lose their shape in the oven.