This no churn ube (purple yam) ice cream uses only 4 ingredients to make a delicious, creamy dessert. It's perfect if you're a purple ube lover or want a homemade version of Trader Joe's popular ube ice cream.
Click here to jump to recipe
Ube ice cream – refreshingly sweet, beautifully purple, and a truly unique ice cream flavor. I remember when ube used to be a flavor that you could only find in Asian-inspired specialty ice cream shops. That is, until Trader Joe's released a limited edition ube pint back in May, and the Internet absolutely went wild for it.
But before Trader Joes took ube mainstream, this gorgeous purple yam has been a star ingredient in numerous Filipino dishes and Asian desserts. If you've ever had a purple yam plain, you'll know why it is such a perfect ice cream flavor. If you haven't had a purple yam, trust me when I say that they have a wonderful creamy, earthy sweetness unlike anything else. And yes, I do think they are sweeter and tastier than their orange counterparts!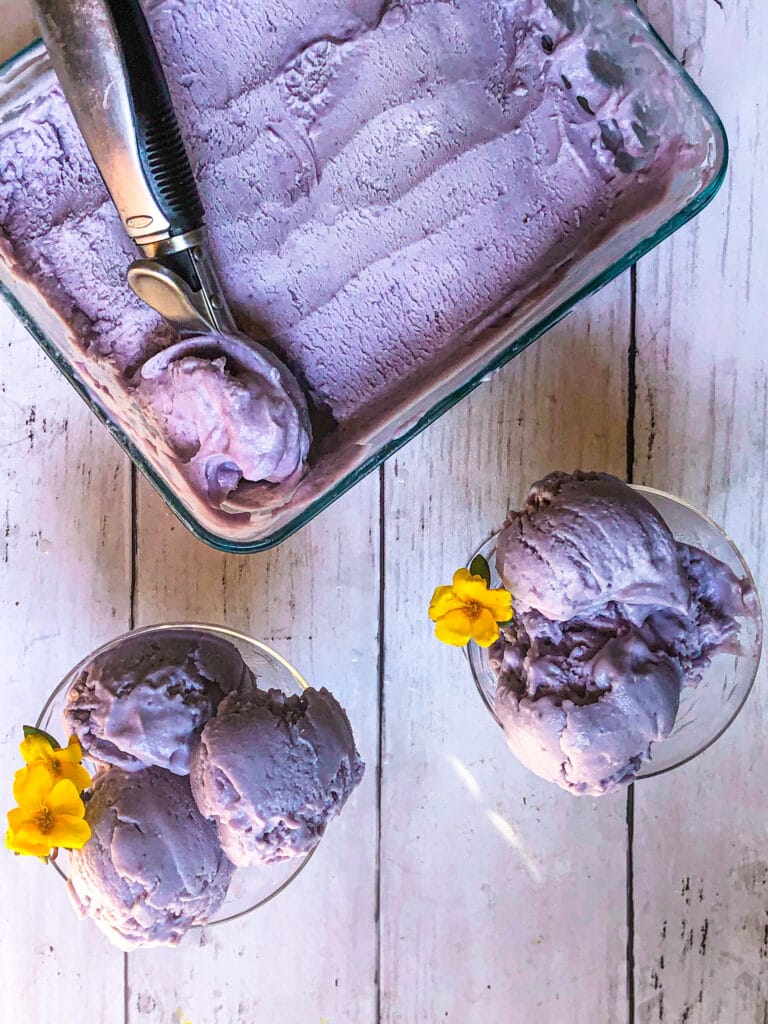 Why is this the easiest ice cream recipe?
When I set out to make this ube ice cream recipe, I wanted it to be absolutely simple so that anyone could make and enjoy it. First, this is no churn ice cream that simply uses heavy whipping cream and condensed milk as the base. You won't need an ice cream maker to enjoy this creamy dessert. Second, this recipe does not require ube jam. Where I live, it's already uncommon to find ube in grocery stores, and it's near impossible to find ube jam. I wanted a recipe that could just use just ube to make the ice cream. You can usually find ube at your local Asian grocery store, such as Ranch 99 or H Mart. If they don't carry ube, you can sub in Okinawa purple sweet potato as well.
This ice cream recipe does turn out a little stiffer due to the extra starch and water from the ube. That's why I recommend letting the ice cream thaw for a few minutes before you scoop.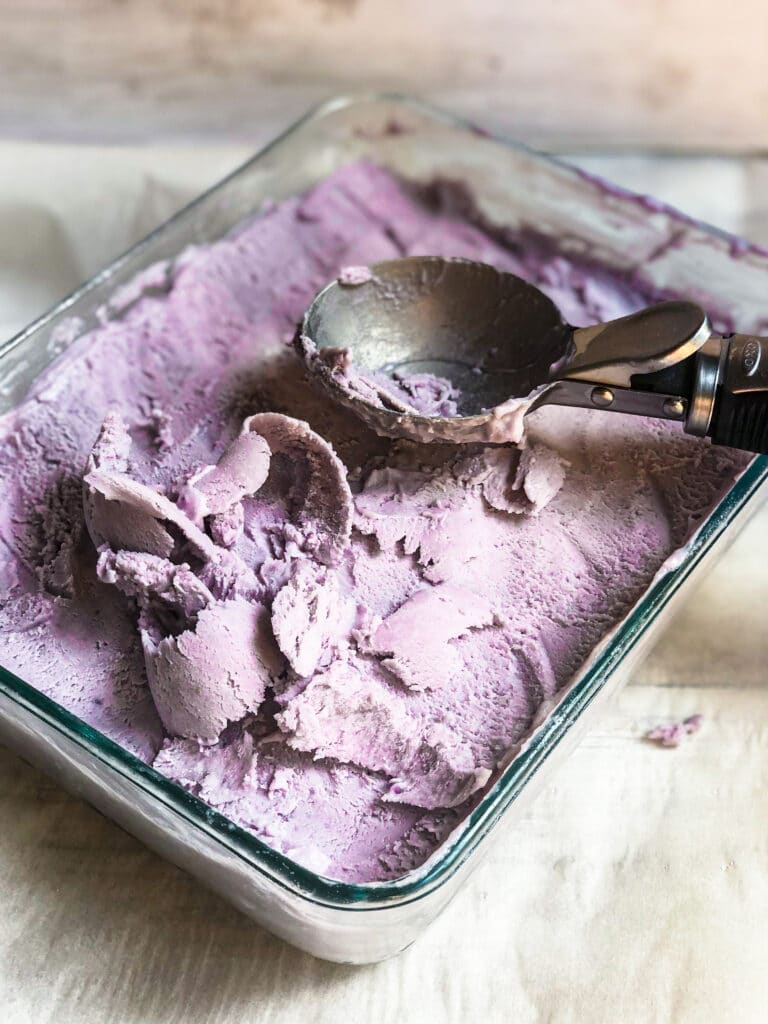 How to make no churn ice cream
First, we'll steam our ube until they are soft through the middle. We'll then blend our ube with condensed milk. In a separate bowl, we'll whip up a pint of whipped cream until stiff peak forms. We'll add in the ube and condensed milk mixture plus a splash of vanilla extract, and our ice cream base will be complete. After freezing overnight, our ice cream will be ready for scooping!
Other delicious dessert recipes:
This ice cream is simple and refreshing. If you make this recipe, let me know! You can comment below or tag #halicopteraway on Instagram so I can see your creation.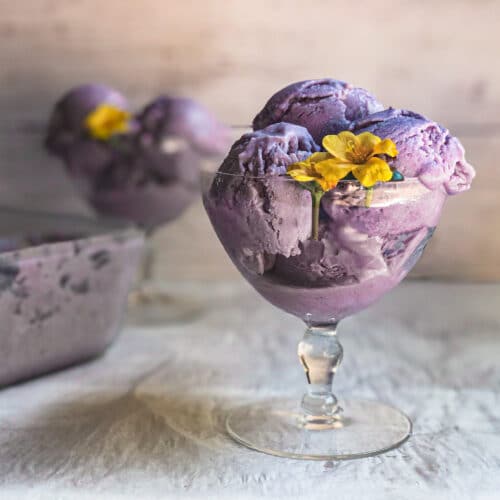 No churn ube ice cream
This no churn ube (purple yam) ice cream uses only 4 ingredients to make a delicious, creamy dessert. It's perfect if you're a ube lover or want a homemade version of Trader Joe's popular ice cream.
Equipment
1 medium mixing bowl

9 in. baking tin

Hand or stand mixer (optional)

Blender or food processor (optional)
Ingredients
2

medium ube (~150g after steaming)

1

can of condensed milk (14 oz)

1

pint of whipping cream (480g)

1

tsp

vanilla extract
Instructions
Steam your ube until completely cooked through. This usually takes about an hour. Peel and let cool completely.

In blender or food processor, combine your ube and condensed milk until a smooth puree forms. If you don't have a blender of a food processor, mash the ube using a fork and then mix with condensed milk until evenly combined and no large chunks remain.

Using a hand mixer or a stand mixer with a whisk attachment, beat the heavy whipping cream on medium speed until stiff peaks form. If you don't have a hand or stand mixer, you can whip by hand using a whisk.

Stir in the vanilla and the ube and condense milk mixture into the whipped cream until evenly combined. The mixture should now be a light purple color.

Pour into your baking tin or any other container that is about 1.5L in capacity. Cover and freeze for at least 6 hours.

Remove from freezer and let thaw for a few minutes before scooping and serving.
Notes
Because ube are starchy and add extra moisture, the ice cream will turn out a little stiffer than your traditional ice cream. It's helpful to let the ice cream thaw for a few minutes before serving.
Ube vary in size, so I would recommend weighing them.
Ube also vary in sweetness, so the sweetness of your ice cream may change depending on your ube.