Day 0 | Day 1 | Day 2 | Day 3 | Day 4 | Day 5 | Day 6 | Day 7
Chai tea walnut fig pumpkin sourdough bread aka "wow I am so ready for FALL" sourdough bread aka "what happens if I throw EVERYTHING into this dough" sourdough bread.
Like every other basic baker, I started baking sourdough bread when quarantine started and have been tenderly caring for my starter ever since. And boy did I bake a lot of BAD loaves of bread. Of course, some good ones too, but it probably wasn't until this past month that I began consistently turning out decent loaves using a low-hydration, no-knead process.
In fact, things were going so well I dared to mix in a bit of pumpkin puree and cinnamon sugar to make pumpkin-shaped sourdough. And that's what leads me to these ridiculous, fall-themed little loaves. I also tried some new scoring patterns, which came out surprisingly well.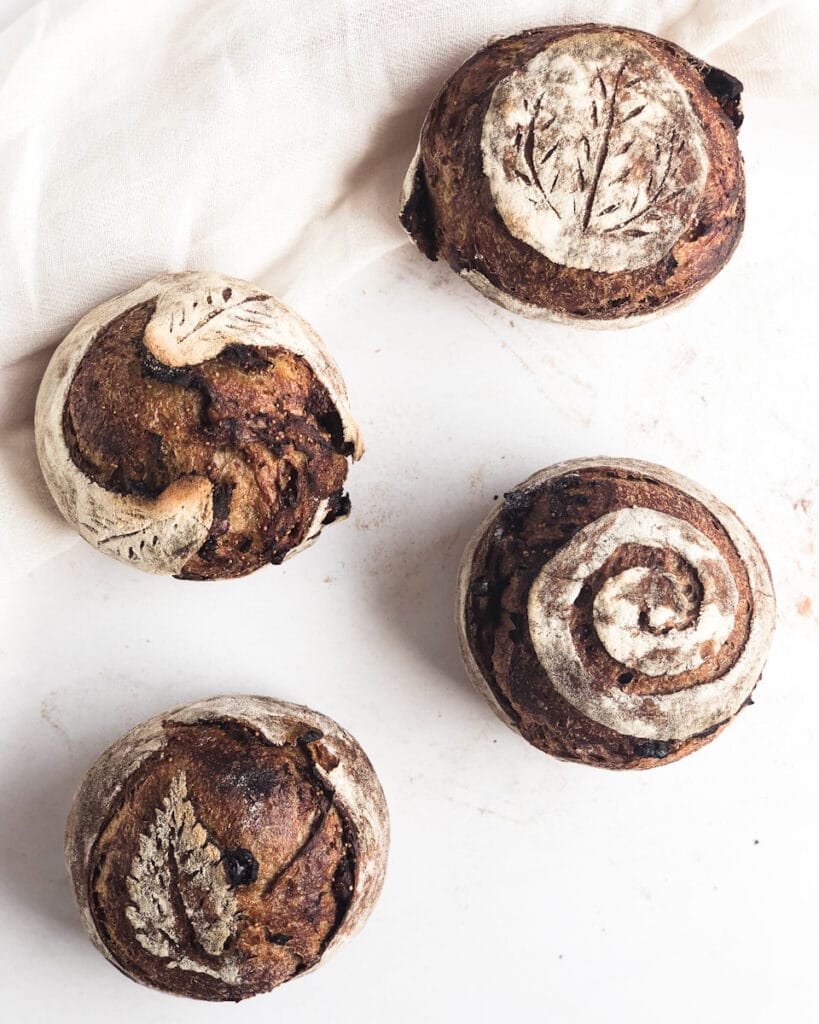 The process
I usually only make 2 mini loaves when I bake, but this time I decided to make 4 so I could gift two away. I use diastatic malt powder because I've noticed a distinctly better oven spring. 
Ingredients
230g starter at 100% hydration
300g pumpkin puree
150g chai tea
600g bread flour (King Arthur unbleached)
2 tsp diastatic malt powder
15g salt
15g granulated sugar
90g chopped figs
60g chopped walnuts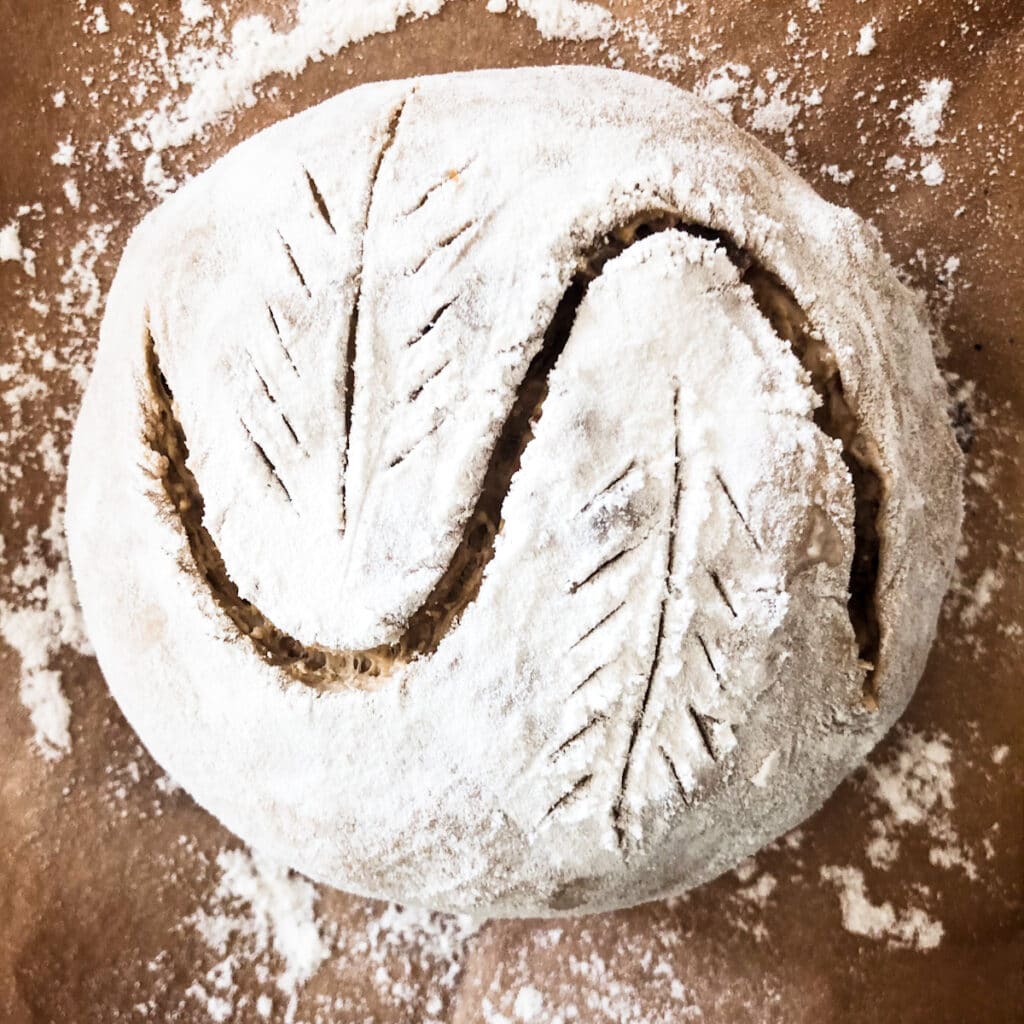 As always, I feed my starter with 100g AP flour and 100g lukewarm water and let it at least double in size before mixing. While I wait for my starter to double, I let the figs and walnuts soak in a bowl of chai tea, in the hopes that they will be infused with tea flavor. It also gives the tea a sweet figgy flavor. I have no idea if it worked, but it didn't do any harm!
Once my starter has grown 2.5x, I mix everything together in a large bowl, except the figs and walnuts. I then perform ~4 – 5 coil folds over the next 2 – 3 hours. I then add the figs and walnuts and perform 2 – 3 more sets of coil folds over 1 – 2 hours. I stick the dough in the fridge and then shape in the morning before baking,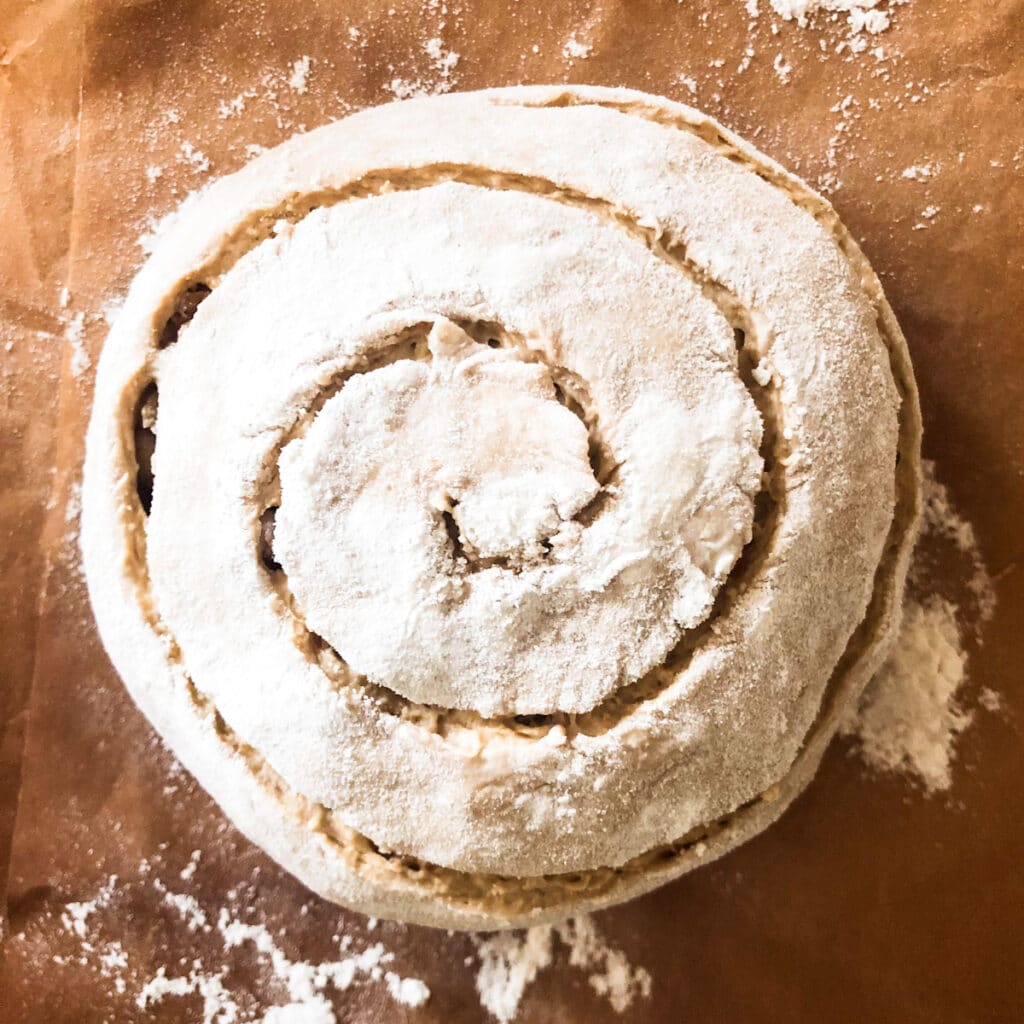 I bake immediately after shaping and scoring (no additional proofing). 20 minutes at 500 in a covered Dutch oven and 12 – 15 minutes at 450 uncovered.
The results
Wow these loaves were tasty and perfect with cream cheese! The crumb was quite dense and chewy, which I expected given the number of add-ins. Didn't really get a lot of pumpkin flavor, but did get some good chai flavor. I also got a great oven spring and the scoring turned out lovely.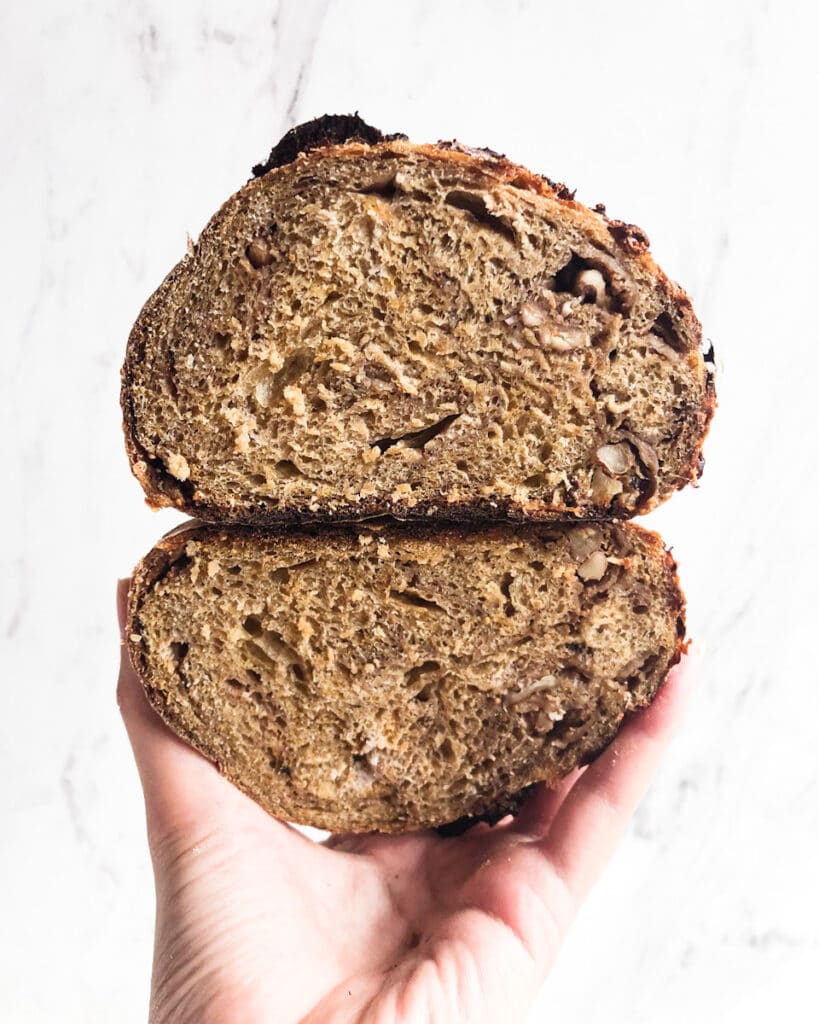 Some things to note:
Tea didn't noticeably alter the bulk ferment behavior of my dough
Soaking the figs made them dissolve. Next time, I'd either only soak whole figs (not chopped) or not soak them at all.
The loaves could have used a little more figs and walnuts
Add-ins during the last 2 -3 coil folds worked for me. They were pretty evenly distributed and didn't deflate the rise.
Score deeply the places you want to expand, score lightly the places you don't (barley ears, small designs, etc.)
These loaves were a great learning experience with dough mix-ins and different scoring patterns. I'm excited to try some other combos – like chocolate and figs, scored to look like Starry Night.